Today, we might know one dollar bills as greenbacks. But in the past, they were coins instead of notes. And some of those coins are highly sought after by today's collectors.
We're going to search out the most valuable one dollar coin ever sold at auction. And we'll find some of the other examples that have fetched big money too.
So if you're ready, step this way to view some very precious coins …
Most Valuable One Dollar Coin
The 1794 Flowing Hair Silver Dollar is one of the most famous coins on the planet. 1794 was the first year in which silver dollars were struck. And it's believed that this particular example may have been the very first one minted.
It has been independently assessed by the Professional Coin Grading Service, or PCGS. They're one of the most prestigious coin assessors, responsible for giving a view on the quality and condition of coins.
The grade given to this one was MS66. That means it's in "mint state" – never circulated – and the 66 points is out of a maximum of 70. That puts it into the category of "gem quality" for the clarity of strike and planchet (the metal disc used for the coin).
It achieved a record-breaking auction price in 2013. The buyer then was a successful businessman by the name of Bruce Morelan. And he was so determined to own the coin that he placed a huge bid of $10 million to deter any competition.
Seven years later, Morelan put the coin up for auction again. The guide price was $8-9 million. But despite extensive publicity, it did not achieve its reserve. It was reportedly sold privately in 2022 for $12 million to a company specializing in rare coins.
Seated Liberty dollars from 1870 are highly sought after by collectors. Numerous examples at lower grades have sold for six figure sums.
But this particular coin is the finest example known to exist. It was graded MS – mint state – 62 by the PCGS.
It last changed hands in 2003, when it fetched over a million dollars – $1,092,500 to be precise. At that time, it was simply graded "BU" – "brilliant uncirculated". Since then, it's been properly appraised by the PCGS. And they estimate its value today at $2.5 million.
But if it were offered at auction again, who really knows how much collectors would be willing to pay?
Silver dollars from 1796 take one of three different forms. There are coins with a large date, and coins with a large date and small letters. And then there's the small date, small letters variety.
The latter is actually the most common of the three types. But finding one in very good condition is considerably more difficult.
The auction record for a coin in "extremely fine" condition was achieved in 2003. "Extremely fine" is a grade used for coins that have been circulated. That means they'll show signs of wear from beig used and handled. Even that example sold for $46,000.
But the specimen that was presented at auction in 2020 was of a different order altogether. It had been graded as mint state 65 by the PCGS. That put it into the category of a gem quality coin. And it made it highly desirable to collectors.
When the hammer fell, it had achieved a price of $705,000.
Proof silver dollars made between 1801 and 1803 are the most collectable of all federal coinage series. Collectors have even given them their own special name – "novodels".
This example, dated 1803, is an example of what's known as a "draped bust dollar". It gets its name from the portrait of Lady Liberty on one side. She has draped fabric around her low-cut neckline.
Proof coins are those that were made for record keeping and, in later years, for collectors. As such they are a higher quality than even mint state coins. And proof 1803 draped bust dollars are extremely rare. In fact, there are only four known examples in existence.
This example, graded proof 66, was presented at auction in 2013. It was only the second time it had ever been sold. An 1802 novodel graded PR65 had realized a price of $920,000 five years earlier. And hopes were high that this coin might break the £1 million barrier.
In the event, it wasn't to be. But it still made a far-from-shabby $852,000.
Here's another example of a draped bust dollar. This one was dated the following year, 1804. And it too was a proof specimen, graded an impressive 68 out of a possible 70 for quality and condition.
But the date here is rather misleading. Although the mints recorded just under 20,000 dollars struck that year, these all bore the date 1803. And after that, no more silver dollars were struck for several years.
But in 1834, the Department of State ordered special sets of coinage to be struck. They were intended for presentation to foreign dignitaries. And they were struck with the date 1804.
Only 15 1834 silver dollars are known to exist, and they are divided into three classes. This particular coin is the Class I, one of only eight known examples. And it was part of a set presented to the Sultan of Muscat.
It found its way to the private market and was presented at auction in August 2021. When the hammer fell, it had made an astonishing $7.68 million.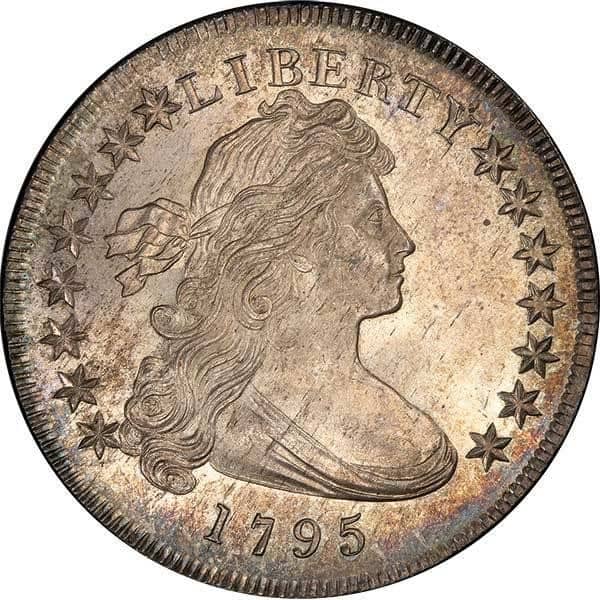 This dollar dates from 1795. Two combinations of dies were used that year. And with the first, the portrait of Lady Liberty is positioned too far to the left of the coin.
Look closely and you'll see that her hair almost touches one of the surrounding stars on the left side. On the right, however, there's clear distance between her and the stars. This error gave the coin the name by which it's known by numismatists: the "off-center bust dollar".
This particular example is either the finest or the second finest of its kind, depending on who you ask. It's graded mint state 66. The other contender for the top spot is a specimen coin graded 66.
It's very well struck, with all the details crisp and clear. And the fields – the flat areas of the coin – are beautifully reflective.
It found its way to auction in 2020, eight years after it had last changed hands. It sold for $705,000.
As we know, the quality and condition of a coin is key to its value. So this particular coin is very special.
It was minted in 1798 and is known as a wide date dollar. It was graded MS65 by the PCGS. But it had also been certified by the CAC, the Certified Acceptance Corporation. The CAC have exceptionally strict criteria by which they decide whether a coin is "premium quality".
Only one other MS65 specimen exists, and it was acknowledged not to have the "eye appeal" of this one. Neither was it CAC certified.
When this one was offered for auction in 2020, the estimate was $200,000-250,000. But when the hammer finally fell, it had realized a price of $270,250.
Remember the 1804 proof draped bust dollar we looked at earlier? That one was a Class I. Here, we have the rarer Class III.
While the Class I coins were struck in 1834, the Class II and Class III varieties were struck several years later. The exact date is unknown, but researchers have determined it could not have been before 1857.
Their production was the result of the popularity of the Class I specimens with collectors. They were probably a way to enrich the Mint, or perhaps individuals within it. In any case, it seems the coins were made in secret and sold the same way.
And to give them the appearance of age, some of the coins were artificially worn down. That's the case with this specimen, which bore only light signs of wear. It was graded AU – "almost uncirculated" – 58 by the PCGS. But as it's really a proof coin, it has the official designation of PR58.
It is one of only six Class III 1804 draped bust dollars in existence. Three of those are in museums, and this is the finest currently available to private collectors.
It came up for sale in 2009, and made an eye-watering $2.3 million.
So far, the dollars we've looked at have dated from the 18th and early 19th century. That makes this 1893 silver dollar positively modern in comparison.
It was graded mint state 67 by the PCGS, and bore the coveted CAC certification. But the 1893 Morgan dollar is a rare coin in any condition. That's because the banks failed that year and there was a sharp economic downturn.
As a result, very few coins were minted – only about 100,000 in San Francisco, the mint which struck this specimen. And most of those were subsequently melted down following new legislation in 1918.
This one, the finest known survivor, was offered for sale in August 2021. After frenzied bidding from at least 22 different bidders, it finally sold for $2.1 million.
The 1964 Peace Dollar is something of an oddity – because no-one knows for sure whether it even exists.
It was minted in the Spring of 1965, despite all the circumstances at the time being against the production of another silver dollar. There was a national coin shortage, and rising silver prices meant people were hoarding silver coins. The government itself had a dwindling silver supply.
But coin collectors had stripped the Treasury vaults of silver coins. And some felt that they should be replaced – an argument they made successfully to President Lyndon B Johnson.
Congress over-ruled the White House, but more than 300,000 silver dollars were minted before production was halted. The order was then given for them to be melted down.
But the coins to be melted were weighed out, rather than being individually examined. So it would have been possible for a nefarious Mint employee to swap a 1964 Peace Dollar for an older silver dollar.
And there have been persistent rumors that some coins escaped the melt. In the 1970s, the Mint issued a notice that if any such coins were in private hands, they remained the property of the Mint and would be recovered.
It's perhaps for that reason that no such coin has ever appeared for sale. The PCGS is offering a reward of $10,000 for even setting eyes on an authentic example. If one ever did appear, its value to collectors is inestimable.
The 1976 Eisenhower dollar without an S is probably the rarest modern American coin in existence. The vast majority of 1976 dollars bear an S, indicating that they were minted in San Francisco. But the no-S variety were trial trikes, and they were minted in Philadelphia.
The design was changed to improve the definition of the strike. That means there are two different types. The Type II – of which this is an example – has thinner lettering on the reverse.
This is the only known proof Type II coin to exist. It has a grading of 66 and is designated a cameo – a coin with an attractive contrast between reflective fields and frosted raised areas.
It's in the private collection of one Mitchell Spivack, who has indicated he will hand it down to his son, also a coin collector. Although he actually said that his son had asked him, and he would "certainly try" to do so – perhaps signalling he might change his mind for the right price!
The PCGS estimate the current value of the coin at $850,000.
I'd Buy That For a Dollar!
That brings us to the end of our look at some of the rarest and most valuable one dollar coins of all time. We hope you've enjoyed learning more about them and their fascinating stories!
And if you've got a silver dollar dated 1964, get it to the PCGS as quick as you can. You might just be about to make coin collecting history!