Wheat pennies were minted from 1909 to 1958. They got their name from the wheat stalks on the reverse (that's the tails side) of the coin. Wheat pennies featured Abraham Lincoln on the obverse (the heads side) so as we hunt down the most valuable wheat pennies, we'll learn some trivia about the 16th President of the United States and factors that made him popular.
Most Valuable Wheat Pennies
Abraham Lincoln was the first human model to appear on American currency. How come? The founding fathers were against most things British, and the idea of having a living leader on a coin felt too much like the royals. Earlier coins featured monarchs from the colonial era.
Year: Mixed
Mint Mark: Mixed
Grade: None
Value: $10,191
After Americans took kings and queens off coins, they replaced them with abstract images to represent liberty. Often, this was the face of a generic Native American or a Caucasian lady that echoed Lady Liberty aka the Statue of Liberty. So Lincoln was the first actual person.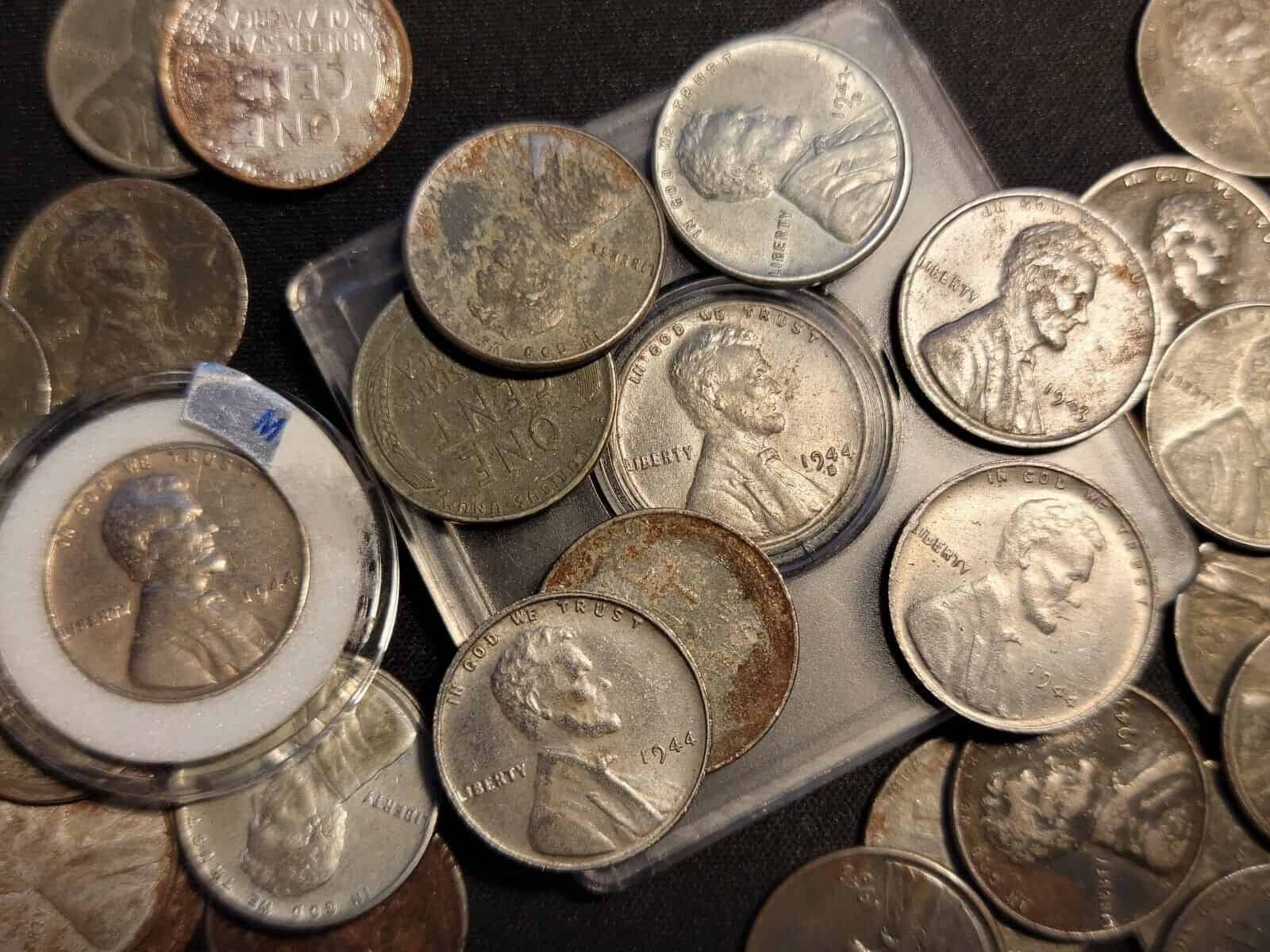 Why did they choose Abe Lincoln for this pioneering feat? He'd been dead for nearly five decades, but 1909 would have been his 100th birthday. Lots of people were making souvenirs, medals, and trinkets to celebrate this precious anniversary. Some wrote letters to the Mint.
Year: 1943 and 1944
Mint Mark: Mixed
Grade: None
Value: $5,100
These adoring letters suggested a coin or note that would honor Lincoln's contributions to the nation. It would mark the first time a US President appeared on a coin, something that had been actively resisted by George Washington, the 1st US President. The timing was right.
Wheat pennies were 19.05mm in diameter. From 1909 to 1942, they were made of what was then called French bronze – an alloy of 95% copper plus a 5% mixture of tin and zinc. The coin was designed by sculptor Victor David Brenner, though there was some controversy.
Year: 1909
Mint Mark: S (San Francisco)
Grade: MS64
Value: $3,199
Initially, Augustus Saint-Gaudens was tapped to design the coin, but he was ill and died before he could finish. Saint-Gaudens and Brenner were hired at the behest of President Teddy Roosevelt. He wanted US coins to have more artistic merit via professional portraits.
When Brenner got the commission, he initially borrowed ideas from French coins that had tree branches and a Standing Liberty, but the Mint shot these both down. So he modified the branches into a pair of wheat stalks that framed the nation and denomination of the coin.
Year: 1909
Mint Mark: S (San Francisco)
Grade: MS63
Value: $3,261
Once the design was done, Brenner signed his initials on the coin. At first, he put his full surname on the obverse. When this move was rejected, he shortened it to just his initials, VDB, moving them to the back of the coin. This option was equally unwelcome at the Mint.
After lots of official complaints, the VDB stamp was removed from wheat pennies and would not return until 1918. That year, a tiny, almost invisible VDB was added to the front of the coin. It was tucked under the cut-off point of Lincoln's shoulder, hidden near the coin's base.
Year: 1955
Mint Mark: None (Philadelphia)
Grade: MS64
Value: $3,750
But let's talk more about Lincoln, the man. If you're of a certain age, you may have seen a fictionalized flick (or maybe you read the books) that depicted this politician hunting vampires or zombies. In reality, his story was less fantastic but equally gripping. Let's dig in!
Lincoln was born in a Kentucky log cabin, and this historic site is memorialized on the reverse of the bicentennial penny. Three other reverse designs were coined, making a total of four assorted reverse designs that celebrated various aspects of this revered leader's lifetime.
Year: 1912
Mint Mark: None (Philadelphia)
Grade: PF65
Value: $4,700
In his youth, Abe was a manual laborer. He worked as a rail splitter in Indiana, splitting logs that were later used to make fences. But in his downtime, Lincoln read books and trained himself until he eventually qualified as a lawyer. Education was important to him.
Lincoln is mainly known for ending slavery. Before he ascended to the presidency, he served as a senator and congressman for Illinois. He was the leader of the Whig Party and later the Republican Party, which seems strange. Back then, it's republicans that were progressive!
Year: 1914
Mint Mark: D (Denver)
Grade: MS63
Value: $4,000
Abe's views on slavery were known, so when he won the election in 1860, slave states from the south started to leave the Union and join the Confederacy. Lincoln then launched the Civil War to bring these rebelling states back into the Union and end slavery once and for all.
While the public seemed to love Lincoln, his principles rubbed his rivals the wrong way. But whatever else you may think of him, he knew how to play politics. He had allies among War Democrats and Radical Republicans but was opposed by Confederates and Copperheads.
Year: 1922
Mint Mark: None (Damaged Denver Die)
Grade: None
Value: $2,750
Copperheads were Anti-War Democrats, and they conspired with Confederates leading to his eventual assassination in 1865. But before then, Lincoln played the four factions against each other to keep them contained, and he did it with an authoritarian flair and public approval.
Let's take a few steps back to see what made Abe the man he was. He was named after his granddad, Captain Abraham Lincoln. During a Native American raid, the captain was killed as his son Thomas watched. Thomas was 8 at the time and later named his son for his dad.
Year: 1955 (Double Die)
Mint Mark: None (Philadelphia)
Grade: MS62
Value: $2,480
You'd think this would cloud Thomas' politics. But when he married and started his own family, he moved them to Indiana, a free state. The family attended the Separate Baptist Church, which – among other things – objected to booze, slavery, and dancing. Tough crowd!
While he did physical work, Abe was known to be bookish and disliked manual labor. His mother died when he was 9 and he was mostly raised by his sister Sarah, who was 11 at the time. Unfortunately, both Abe's siblings died – Sarah at 21 and Thomas while he was a baby.
Year: Mixed
Mint Mark: Mixed
Grade: Mixed
Value: $2,100
Sarah died in childbirth, and her baby was stillborn, so by age 19, Abe had lost his baby brother, his mother, and his sister, who was a mother figure to him. Soon after, his dad married a widow with three kids, Sarah Bush Johnston. Abe was quite close to his stepmom.
While we've established that Lincoln was a bit of a nerd, he did know his way around an axe. He was tall, athletic, a champion wrestler, and was considered a strapping lad. And although he clearly disliked working with his hands, he earned enough of a living to help the family.
Year: 1914
Mint Mark: D (Denver)
Grade: MS61
Value: $2,500
He wasn't always lucky in love though. His first girlfriend, Ann Rutledge, died. His second relationship with Mary Owens flopped when they both got cold feet. But third time's the charm. Mary Todd became his wife in November 1842. But not before he jilted her in January 1841.
After he called off the 1841 wedding, it took Mary two years to get him back down the aisle. But this time, he played for keeps, remaining devoted to his wife and four sons. He often brought them to work where his law practice partners saw them as rowdy and undisciplined.
Year: 1955
Mint Mark: None (Philadelphia)
Grade: BU (Brilliant Uncirculated)
Value: $2,499.99
But Lincoln was warm and affectionate towards his children, and quite permissive. Sadly, two of his sons died in childhood and a third died at 18, so only one survived. It's believed the losses caused serious bouts of what we'd call clinical depression in Abraham and Mary.
Although he grew up in a no-booze household, Lincoln was a bartender after his military service during the Black Hawk War. He partnered with William Berry to buy the New Salem General Store where he worked before the war. They got liquor licenses and ran the tavern.
Year: 1941
Mint Mark: D (Denver)
Grade: None
Value: $2,000
But while stories like to talk of Lincoln's failures, this was a tale of excessive success! Berry was often too drunk to work, and because the store was so busy and profitable, it was a heavy task for Abe to handle alone. He cashed out and being a good orator, he went back to politics.
Before the War, Lincoln had vied for office. During one campaign, he physically tossed a bully that was heckling one of his supporters. He did well in that election, gaining 277 out of 300 votes in New Salem, but he lost the rest of the state and finished 8th out of 13 candidates.
Year: 1909
Mint Mark: S (San Francisco)
Grade: MS64
Value: $2,900
He then turned to law. But instead of taking the traditional internship at a law firm, he bought and borrowed books to learn legalese, passing the bar in 1836. In between, he ran for office again in 1834, won, and served four terms in the Illinois House of Representatives.
Abe borrowed documents from Thomas Drummond and John Todd Stuart to learn law. He later joined Stuart's law practice, and his wife Mary was Stuart's cousin. Oddly, Abe opposed both slavery and abolition, opting for the free soil middle-ground that opposed expansion.
Year: 1914
Mint Mark: D (Denver)
Grade: BU (Brilliant Uncirculated)
Value: $2,450
It's a strange fact considering he ended slavery, but in those early days, he felt abolition was too destabilizing and proposed freeing and resettling slaves in Liberia. He also wanted slave owners compensated and fugitive slaves recaptured. He even drafted a bill but dropped it.
Outside of slavery, his policies supported modern banking systems and infrastructure taxes. He lost his seat to James Hardin in 1843, regained it in 1846, and because he had promised to only serve one term, he returned to his law practice in 1848. He aced cross-examinations.
Year: 1909
Mint Mark: S (San Francisco)
Grade: MS63
Value: $2,400
Fun fact – Lincoln holds an 1849 patent for his invention, a device that helped boats float better in shallow water. He didn't do anything with it, but it showed his tech skills. Known as Honest Abe, he was the type of attorney today's TV viewers would love. So much legal flair!
In an example that would excite any legal audience, he used an almanac to get his client off a murder charge. A witness claimed the defendant committed the murder in the moonlight. Abe opened the book to prove there was limited light on the night of the murder. Not guilty!!
Year: 1955
Mint Mark: None (Philadelphia)
Grade: MS60
Value: $2,069.22
Earlier, we mentioned free soil, which meant existing slave states could stay as they were, but free states couldn't adopt slavery. It sought to prevent the extension of slavery up north. But by 1854, Lincoln openly came out against slavery. This probably helped his presidential run.
Lincoln won a seat in 1854 but declined so he could run for senate. He lost, but he rallied to get his preferred candidate elected, Lyman Trumbull. This was a clear display of Lincoln's political savvy because Lincoln's Whig supporters hated Trumbull's anti-slavery democrats!
Year: 1944
Mint Mark: None (Philadelphia)
Grade: None
Value: $2,300
In 1858, Lincoln ran for Senate against Democrat Stephen Douglas. He lost, but their seven highly publicized debates showcased his oratory skills and moral positioning. This platform gained him national following that eventually won him the 1860 presidency as a Republican.
While most people have unshakable admiration for Abe Lincoln, he has detractors. They point out that his initial goal wasn't to end slavery – it was to deport freed Africans and prevent slavery from legally expanding to free states. This was moderate, almost apologist.
Year: 1909 to 1958
Mint Mark: Mixed
Grade: Mixed
Value: $2,040.99
While he was morally against slavery, Lincoln felt blatant abolition was impractical. He launched the Civil War more to preserve the Union than to support slaves. But assassination made him a martyr and cleaned his slate, so he remains, to date, on the right side of history.
Do you own any valuable wheat pennies? Tell us all about your coins in the comment section!