As everyone interested in the world of antiques and collectables knows, the Chinese market is hot right now. And that includes the fascinating world of numismatics – or coin collecting, as it's otherwise known.
Coins have been used in China for well over two millennia, so there's a huge range of specimens out there. We're going to look at the most valuable old Chinese coins offered for sale in recent years. And we'll find out just why they commanded premium prices.
So if you're ready, let's find out more …
Most Valuable Old Chinese Coins
This 1928 coin has a very interesting story. It depicts the only car in the remote Chinese province of Kweichow at that time.
The coin was struck for the governor of the province, Chou His-cheng. Under his instructions, a road had recently been built there, part of an effort to transport grain and relieve famine in the region. The road had been partly funded by the International Famine Relief Commission.
The car belonged to Governor Chou, and getting it to Kweichow had required considerable effort. The American model had been bought in Canton. It was taken apart there and transported to Kweichow on foot – a distance of around 700 miles.
The question of where the coin was struck is almost as intriguing.
There was no mint in Kweichow in 1928, so some believe the coin must have been made in Szechuan. Others speculate that it was minted in Kweichow on stolen machinery, perhaps looted by Chou's soldiers from the Chungking Mint.
This particular coin was graded AU58 by the Professional Coin Grading Service, or PCGS. That means it's a coin that's been circulated, but has only the slightest signs of wear on its raised areas. It was sold in 2018 at Hong Kong auctioneers Champion Auctions.
The estimate was $50,000 to $100,000. In the event, it sold for a mid-estimate £70,000.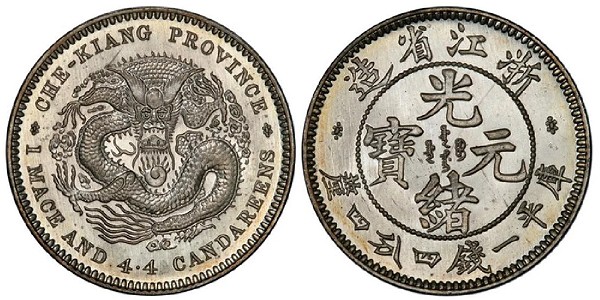 This 1902 coin from Chekiang Province was produced for China by the Heaton Mint in Birmingham, in the United Kingdom. It features a drunken dragon, the only issue of the Heaton's coins to use that design.
The coins feature in various denominations, with only a handful of each. This 20 cents example is one of between six and eight specimens known to exist. There are similar numbers of the 10 and 5 cent coins.
It was graded SP66 by the PCGS, meaning it's a specimen coin. That means it falls slightly short of the quality of a proof coin, but is better than standard currency coins made for circulation.
The 66 is scored out of a possible total of 70. It means the coin is well struck, with just a few hairlines or marks in unobtrusive places.
This coin sold at the same 2018 auction as the Kweichow 1928 Auto silver dollar. It made $88,000.
That might sound like a lot – and it is. But if you were to get your hands on a silver dollar from this same series, it would be worth a lot more. Only two are known to exist, and both made around $1 million when they last came up for sale.
Early in the 19th century, many Chinese coins were minted overseas in places like Philadelphia in the US, Birmingham in the UK, and Germany. This brass 50 cents coin was struck from dies made by Otto Beh, a German manufacturer based in the town of Esslingen.
Beh specialized in Chinese coins, and won some of the biggest commissions of the period. He eventually produced more than 200 different dies for the Chinese authorities.
Today, German patterns of Chinese coins are highly sought after by collectors. This 50 cent coin by Beh came up for auction in 2021. It was rated MS – for mint state – 62, making it the finest known example in existence.
It comfortably exceeded its pre-sale estimate of $60,000 to $120,000, selling for $140,000.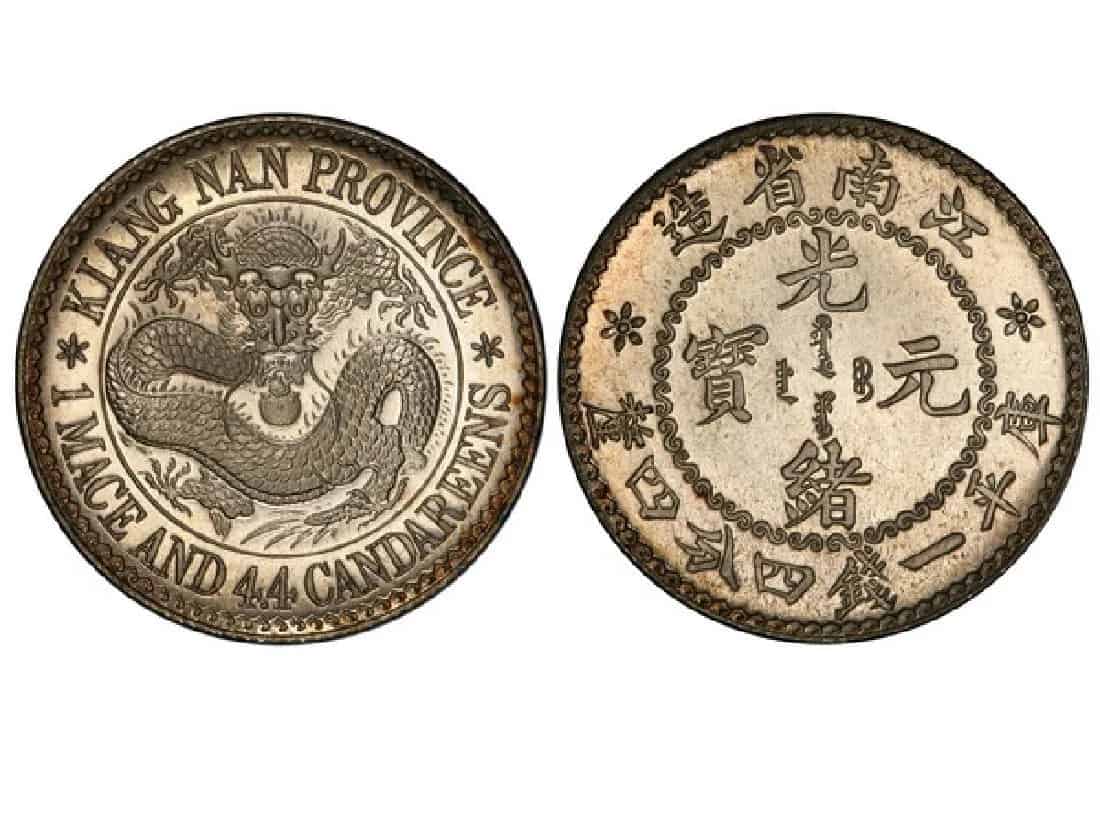 This 20 cent coin was struck for China's Kiangnan Province in 1897.
It was another of the designs produced for the Chinese government by the English coin producers Heaton's. In fact, it was one of the earliest examples of Chinese coins by that manufacturer. And it features a beautiful and detailed image of a dragon.
This one is a specimen coin, which also makes it rare and collectable. It was graded 67 by the PCGS out of a possible maximum of 70, so it was in excellent condition.
It came up for sale in Hong Kong in 2018, with an estimate of $40,000 to $80,000. In the event, it made nearly the top of the range, selling for $78,000.
This one dollar coin was apparently produced to mark the enthronement of Yuan Shi Kai as Emperor Hung Hsien.
But the real date of the coin is shrouded in mystery. An authoritative 1917 article on Chinese coins makes no mention of its existence, suggesting it was not actually produced until some time later.
Various different theories abound. But all agree that the coin was actually produced after Yuan Shi Kai's death, somewhere in the period 1917 to 1920.
This particular coin was even more mysterious. Because unlike most of the Yuan Shi Kai dollars, this one has the emperor's hat touching the rim of the coin. It is thought to be an experimental piece, and it's a great rarity.
It was last offered for sale at an auction in 2021. The guide price was $60,000 to $120,000 – but the competition amongst bidders was fierce. The winning bid was eventually $420,000. And the successful collector had to pay another $105,000 on top, for the buyer's premium.
We've already seen that the one dollar coins dated 1916 and depicting Yuan Shi Kai are highly collectable. This second example also came up for auction in 2021. But this one was a little different.
In this case, there's clear space between the top of Yuan's hat and the rim of the coin. And the flying dragon on the other side is depicted with great delicacy and detail.
Rated MS64 by the Numismatic Guaranty Company, or NGC, it's the finest known example in existence. So for collectors of Chinese coins, it's a highly desirable specimen.
That was reflected in its pre-sale estimate of $200,000 to $400,000. But when the auction got underway, that estimate was soon left far behind.
The eventual hammer price was $520,000. And the winning bidder would have had to pay a buyer's premium of 25 per cent, bringing the total to an astonishing $650,000.
This coin from 1939 was the first ever Chinese coin to feature a map or globe in its design.
One side depicts two crossed flags above a globe. The other carries the portrait of Sun Yat Sen. He played a leading role in overthrowing the Qing dynasty, and is known as the "Father of the Nation" in China.
Some believe that it was struck at the Tientsin Mint, possibly using dies produced overseas. A Chinese Economic Bulletin of September 1929 refers to the National Treasury seeking bids from overseas producers for four coins featuring Sun Yat Sen, one of which may be this design.
Just a handful of examples of this coin type are known to exist, and all are different from one another.
This one, graded MS65 by the NGC, was offered for sale at auction in 2016. The hammer price was $400,000, with the successful bidder also paying a buyer's premium of 21 per cent.
This fascinating coin is thought to be a trial piece.
One side bears a portrait originally thought to be of Ch'eng Te-ch'uan, who until 1911 was the governor of Kiangsu Province. But after many years, it was discovered to instead depict Yuan Shi Kai.
Yuan was a military and government official under the Qing dynasty. After trying to save the dynasty with modernising reforms, he later played a key role in forcing the emperor to abdicate. And after negotiations, in 1912 he became the first ever president of the Republic of China.
The identity of the portrait sitter was not the only mystery about this coin. It's generally believed to have been made at the Soochow Mint, a relatively minor mint. That may have been a result of the political chaos at the time, when two separate governments were claiming to lead China.
This particular coin is the only one of its kind to have been certified by an independent coin grading specialist. And it's the finest known example. It came up for auction in 2015 and sold for $345,000.
This coin from 1914 is valuable not only for its historical significance, but for the pedigree of its engraver. It bears the signature of L. Giorgi, an Italian who is the most famous of all the engravers of Chinese coins.
Giorgi originally produced a portrait of Yuan Shi Kai from a photograph. But after he had met the President, he asked permission to produce new dies, feeling he could improve on the likeness. This portrait, showing Yuan in profile, was the result.
The coin, graded SP65 by the NGC, is the finest known specimen in existence. So it's not surprising that there was fierce competition when it was offered for sale in 2021. It eventually sold for $420,000.
This coin from 1932 has a place in history as one of the first ever produced by the Shanghai Mint.
It bears the portrait of Sen Yat Sen, and this version is known as the "gold standard" 10 cents. This silver plain edge variant is one of the finest coins in this series. And just four examples are known to exist.
This one, graded MS63 by the NGC, is the best quality of them all. And when it came up for auction in 2021, it sold for a hammer price of $210,000, plus a 25 per cent buyer's premium. That was comfortably above the pre-sale estimate of $60,000 to $120,000.
This rare and immensely valuable coin dates from 1927. That's "Year 16" in the Chinese system of dating that used the establishment of the Republic as Year 1.
It depicts the Chinese warlord Chang Tsao Lin, who briefly ruled China before his assassination. He is shown wearing a richly embroidered military jacket and with a thick mustache.
The coin had come from the collection of the renowned Chinese coin expert Eduard Kann. And with painstaking research, the NGC established that it was the very coin featured as a plate in Kann's seminal work, the Illustrated Catalog of Chinese Coins.
It was presented for sale at an auction in Taisei in April 2022. And when the hammer fell, it had realised the truly astonishing price of $2.125 million.
This rare coin sheds a fascinating light on the history of China and its relationship with the United Kingdom. It was struck at the Hong Kong mint, and features both Chinese and British emblems, including the coat of arms of the British royal family.
Perhaps unsurprisingly, the design was rejected by Chinese officials. Almost all the coins that had been made were melted down, making this one a very rare survivor.
It's a proof coin, struck to a high standard for collectors and never intended for circulation. It was graded 63 by the NGC.
It was sold at the same Taisei auction where the Chang Tso Lin silver dollar appeared. And it made almost as much, selling for $1.99 million.
Insights into a Past World
That brings us to the end of our look at some of the most valuable old Chinese coins ever sold. We hope you've enjoyed learning more about them.
These coins are full of fascinating insights into the world in which they were made. So perhaps it's not surprising that collectors are prepared to pay so much for these little slices of history.