The US Mint started Kennedy half-dollars production in 1964 in honor of the beloved American President assassinated a few months earlier. Gilroy Roberts designed a Kennedy portrait for the silver coin obverse, while you can see the heraldic eagle on the reverse.
Nowadays, it is possible to find the oldest coins made of 90% silver and later clad versions on the market. Most pieces in mint condition are worth $25 to $140, but collectors are prepared to pay far more for most valuable Kennedy half-dollars. Let's take a look.
Most Valuable Kennedy Half Dollar
The Kennedy half-dollar is a famous American coin among collectors designed by F. Gasparro and G. Roberts. The US Mint started its production in 1964, a few months after beloved American President Kennedy was assassinated.
Nowadays, they are collectible pieces, and you can barely see them in circulation, while some of the early halves were melted for silver. After 1971, the US Mint changed coin composition and increased production, but the coin usage stayed almost at the same low level.
The most valuable Kennedy half dollars by PCGS

Lots found
Year
Auction record
Type 1 (silver) Kennedy half dollar
2086
1964 D MS 68
$22,325
4084
1964 MS 68
$12,500
Type 2 (silver clad) Kennedy half dollar
766
1969 D MS 67
$15,600
986
1966 MS 67+
$15,105
1505
1965 MS 67
$9,000
1674
1970 D MS 67+
$6,300
Type 3 (cooper/nickel clad) Kennedy half dollar
535
1971 D MS 61
$13,000
63
2020 D MS 69
$9,995
116
1977 D MS 64
$9,200
143
1974 MS 67+
$8,000
Type 4 (clad, bicentennial reverse) Kennedy half dollar
322
1976 D MS Genuine
$10,000
Type 1 (silver proof) Kennedy half dollar
3561
1964 PR 68 DCAM accented hair
$19,975
7559
1964 PR 68 CAM
$9,400
Type 2 (silver clad proof) Kennedy half dollar
2561
1968 S PR 70 DCAM
$21,600
Type 3, (cooper/nickel clad proof) Kennedy half dollar
1995
1971 S PR 69 DCAM
$12,000
Type 1 (silver, SP) Kennedy half dollar
16
1964 SMS SP 68
$156,000
Type 2 (silver clad, SP) Kennedy half dollar
1585
1967 SMS SP 69
$31,200
These coins with a reeded edge have a diameter of 1.20472 inches (30.6 mm) and are thick 0.08465 inches (2.15 mm). However, the US Mint changed coins' weight depending on their type.
The first version struck in 1964 was 0,40188 troy ounces (12,50 g) heavy, but those produced from 1965 to 1970 weighed 0.40565 ounces (11.50 g). The Kennedy's half-dollar weight was reduced to 0.4 ounces (11.34 g) in 1971 and has stayed the same until today.
It is one of 3,950,762 Kennedy dollars produced in Philadelphia in 1964, the first year of minting. Their regular price ranges from $9.04 to $19.
However, this particular Strike Specimen is a part of the Special Mint Set and is worth $156,000. That was the sum one collector paid at an auction in 2019 for this beautiful piece.
No one knows the purpose of these coins with beautiful reflective satin surfaces and an atypically sharp strike. That is a result of using an early reverse die version. Experts believe they were made as an experiment to determine the finish type for future pieces, but they were possibly intended to be a gift.
Nowadays, you can find five of these specially produced half-dollars from 1964, making them the rarest non-error Kennedy 50 cents in the series. The only one is Specimen-69!
The Philadelphia mint produced 1,800,000 Kennedy half-dollars in 1967, but Strike Specimen, a part of the Special Mint Set, was something special. Nowadays, there are five confirmed coins in this series, but only this one is Specimen-69.
One collector paid for this coin made of silver and copper $31,200 at Heritage Auctions in 2019. In comparison, regular pieces in the series are typically worth $4.37 to $25.
The reason for such a high price is the high grade and unique appearance. However, a mystery about its existence probably adds extra value to the original price.
This coin is one of 156,205,446 pieces containing 90% silver minted only in 1964. Regularly struck Kennedy half-dollars are worth $9.04 to $17, but this one is unique.
It is the finest certified in the series with striking toning and unique gold, bright rose, lemon-yellow, and emerald-green shades. Thanks to its beauty, this coin won the auction record after one collector paid $22,325 for it in 2016.
This coin is an absolute masterpiece! It is a rare specimen of 3,041,506 halves produced in San Francisco this year with a PR 70 grade. Regular proofs in this series are worth a modest $9.60.
However, this one was paid $21,600 at Heritage Auctions in 2017. Another coin with the same characteristics was sold for $12,000 in 2018, showing how unpredictable auctions can be.
An average price for any piece of 3,950,762 Kennedy half-dollar proofs produced in the Philadelphia mint in 1964 is $46. However, the situation is different with coins containing a specific accented hair feature. They are the most sought-after variety in the series.
The reason was a change in these half-dollars' appearance. Jacqueline Kennedy thought the hair details should be softened and less prominent, resulting in the original design being struck only one year.
This particular high-grade Heavily Accented Hair coin variety with Deep Cameo contrast was sold at Heritage Auctions in 2017 for a fantastic $19,975.
Even though most of the 129,881,800 survived Kennedy half-dollar struck in Denver in 1969 is worth only $4.36 to $28, one collector paid $15,600 for this one in 2019 at Heritage Auctions. The reason is its silver content and high grade. Experts estimate that only 50 pieces in MS 67 still exist, including this one.
This year, the Philadelphia mint produced 108,984,932 Kennedy half-dollars containing 40% silver and 60% copper. You should pay $4.36 to $28 for most pieces, but some unique can be pricey. One collector purchased this beautiful specimen on eBay in 2020 for $15,105.
It was the first year for the US Mint to start producing Kennedy half-dollars in a clad composition. Most of the 302,097,424 pieces struck in Denver made of copper and nickel in the 75%: 25% ratio with a pure copper center are worth $2.28.
Since the new coin type required new planchets, many half-dollars from 1971 were struck on the wrong ones. Sometimes, mints used leftover silver planchets from 1970, making rare, valuable, and highly collectible pieces. One of these errors reached a fantastic price of $13,000 on eBay in 2018.
Many collectors appreciate silver Kennedy half-dollars produced in 1964 because they are the only pieces made of 90% silver in long coin production. The following year, the US Mint switched to a cheaper variant and reduced the silver share.
Even though the Philadelphia mint had a high mintage this year and produced 273,304,004 halves, their prices significantly vary, depending on condition. For instance, most coins are worth $9.04 to $17, but this particular unique piece in high grade was sold on eBay for $12,500 in 2019.
1971 was the first year the US Mint started producing Kennedy half-dollars with a pure copper center under a copper and nickel mix coat. The San Francisco mint struck 3,220,733 of these coins, which are worth approximately $5.70 each.
However, this rare deep cameo specimen is something special. Deep Cameos are scarce in this grade, resulting in a high price for this one with light golden toning at Heritage Auctions in 2019. One collector wanted this particular coin and paid $12,000 to get it.
Gilroy Roberts and Frank Gasparro would be proud to see this PCGS genuine Kennedy half-dollar. The Denver mint produced 287,565,248 pieces this year, and you can find lower-graded coins for $2.28.
However, this beautiful, perfectly preserved bicentennial coin reached $10,000 on eBay in 2021. Once you look at strongly stricken edges, smooth surfaces, and high-quality toning, you can understand such a high price.
Kennedy half-dollars' mintage in 2020 was modest 6,100,000 pieces, and the US Mint struck most of them solely for coin collectors. These coins made of copper and nickel are typically worth $2.28, but sometimes you can hit the jackpot.
That was the case with this specimen in almost perfect condition. One collector appreciated its timeless beauty and bought it on eBay for $9,995 in 2021.
The original coin design was changed when Jacqueline Kennedy decided that the assassinated President's hair details should be less prominent and softened. Therefore, you can find two proof varieties struck this year.
The Philadelphia mint produced 3,950,762 silver composition half-dollars, and the proofs' average price is $19. This untoned piece reached an astonishing $9,400 at an auction in 2013, thanks to its perfect condition.
However, it is a far lower price paid for Kennedy half-dollar with accented hair. Even though this coin's grade was lower, one collector set aside $19,975 because of a rare original design.
In 1977, the Denver mint produced 31,449,106 Kennedy half-dollars made of copper and nickel. They are inexpensive on the current coin market, and you should set aside only $2.28 to get one.
However, this specimen was struck on a 40% silver planchet, making it a rare and valuable error. The US Mint planned to use these planchets only for the 1976 S Kennedy half-dollar mintage, but some were used in Denver the following year, probably by mistake.
Several existing coins with this error type are highly appreciated among collectors and are typically pricey. This particular one won an auction record in 2005 when one collector paid $9,200 for it at an auction.
In 1965, the Philadelphia mint struck 65,879,366 Kennedy half-dollars made of silver and copper. Unlike standard pieces worth $4.37 on the current coin market, this superb gem specimen is worth $9,000.
This auction record for coins produced this year was reached in 2021 at Stack's Bowers auction. The reason for such a high price is pristine surfaces with beautiful vibrant mint luster.
Besides a sharply detailed design, this coin captivates with charming golden-tan and lavender toning. Therefore, it is not surprising that it is the most expensive specimen of the 24 discovered in the MS 67 grade.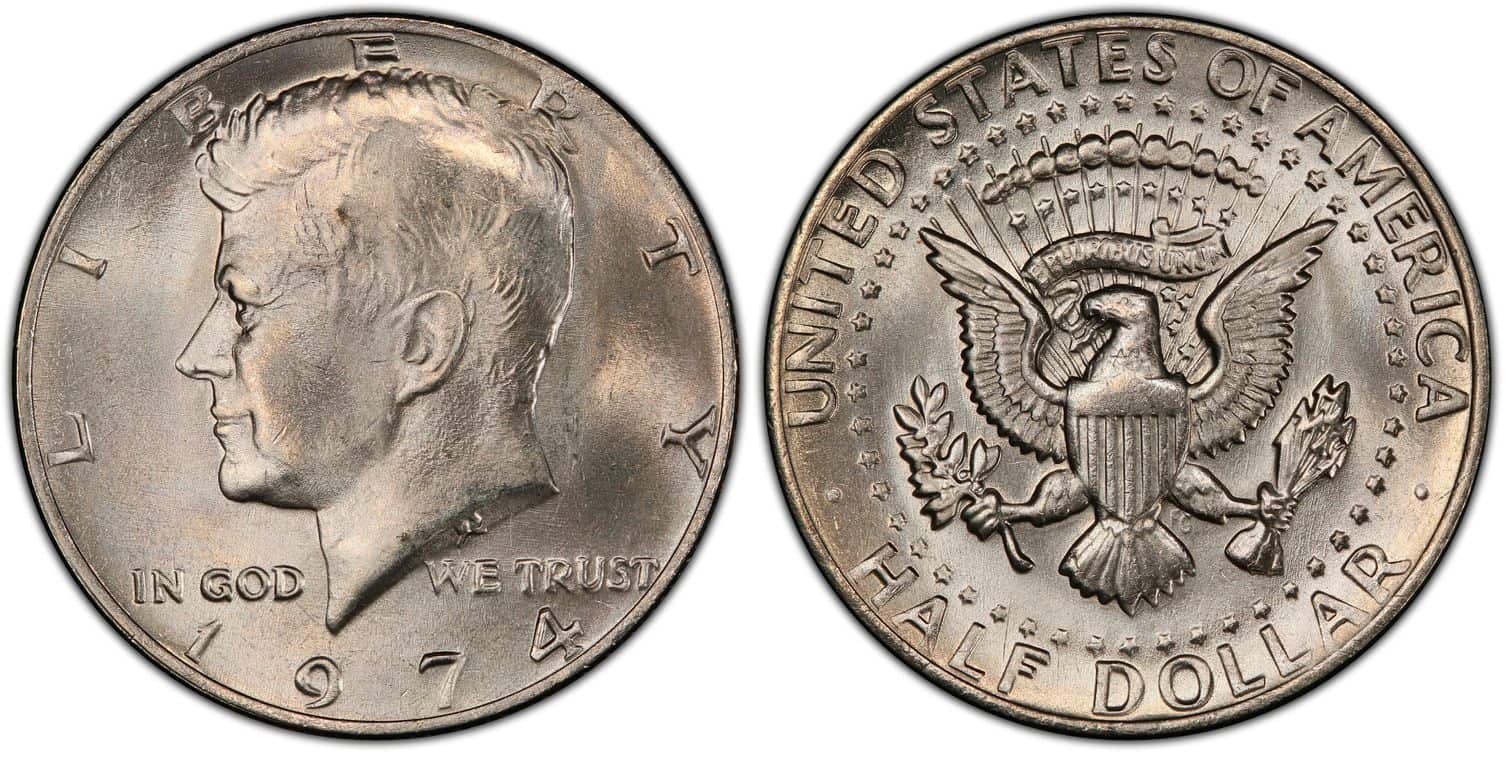 Most Kennedy half-dollars produced in 1974 are regular coins, separated from the rest of the series in no way. The Philadelphia mint struck 201,596,000 pieces made of copper and nickel in the %75: $%25 ratios.
One collector paid $8,000 on eBay for this beautiful coin in 2021. The lovely smooth surfaces and almost perfect condition can convince you it was an excellent investment.
1970 was the last year when the US Mint struck Kennedy half-dollars containing silver in some percentage. Precisely 2,150,000 coins were produced in Denver that year, most of which are worth $4.40 to $43 these days.
Thanks to low mintage, excellent preservation level, and exceptional beauty, this particular specimen was sold for a fantastic $6,300 in 2020. It was an auction record at Heritage Auctions that still hasn't been broken.
Summary
Kennedy half-dollar is undoubtedly one of the most favorite American coins. People seem to like collecting these pieces instead of using them as a regular currency in everyday life. The production started in 1964 when this coin was made of silver.
The following year, coins were made of 40% silver and 60% copper, but the silver content was entirely canceled in 1970. Since then, Kennedy half dollars contain copper and nickel, while the core is pure copper.