Canada's coins come in all sizes and denominations. And some of them can be highly sought after by collectors.
We're going to search out the most valuable Canadian 2 dollar coin sold in recent years. And we'll find out just what makes it, and other precious specimens, so expensive.
Read on to find out more!
Most Valuable Canadian 2 Dollar Coin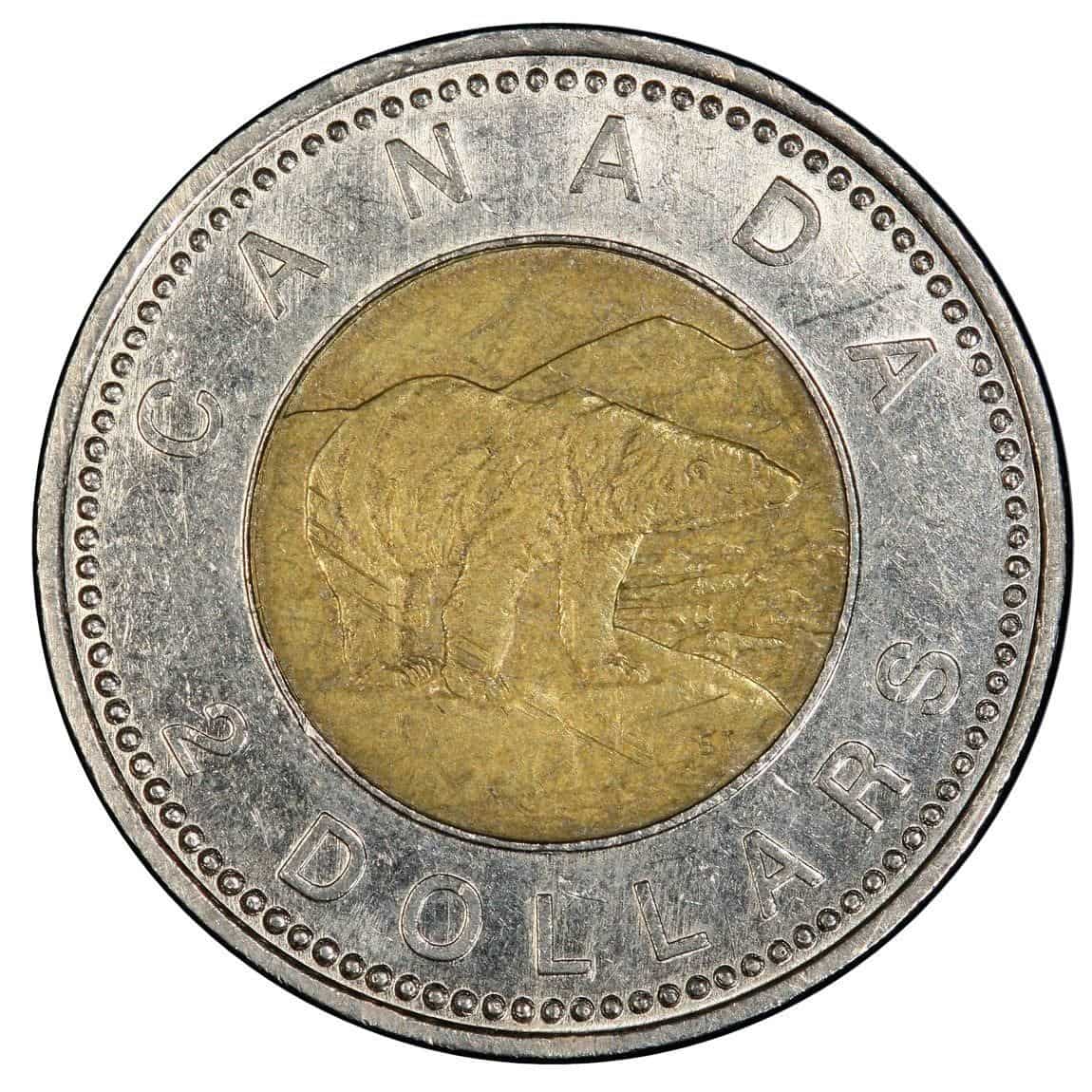 This fascinating example shows that coins don't have to be old to be valuable. This 2 dollar coin was minted in 1996. But it's still of great interest to collectors.
It even has its own name – the "Beaded Twoonie". That refers to the feature that sets this coin apart from other 2 dollar coins of that year. That's the beaded border that runs all the way around the edge of both sides of the coin.
Only four coins with this beaded border are known to exist. And quite why they were produced is something of a mystery.
The independent coin graders who assessed it, the Professional Coin Grading Service, or PCGS, classified it as a trial strike. In other words, they thought it was an experimental design. But there's no paperwork to back up that theory, and some thing it's an alternative design instead.
The mystery of its origins has only added to the allure of the coin to collectors. It came up for auction in September 2021, believed to be the first occasion an example had ever been offered for sale.
It was graded "AU55" by the PCGS. The AU stands for "almost uncirculated, meaning that it was circulated, but shows barely any signs of wear. The 55 is a mark out of 70 for its condition and quality.
It sold for 4,700 Canadian dollars. And on top of that, the buyer had to pay a premium of 700 Canadian dollars to the auction house. That made a total spend of 5,400 Canadian dollars – that's about 4,100 US dollars.
This 2 dollar coin was minted to commemorate the formation of Canada's third territory, Nunavut. It bears the image of an Aboriginal man taking part in the traditional drum dance.
It's made of gold, yellow in the centre, and white around the outside. As commemorative pieces, these coins are all proofs, specially struck and of the highest quality. They were destined for collectors, rather than for general circulation.
A number of them have since found their way onto the secondary market. Prices vary depending on quality, and the ambition of the seller.
A specimen graded proof 69 by independent assessors the Numismatic Guaranty Company (NGC) was offered at auction in June 2021. The estimate was $2,200 to $3,200, but it went unsold.
At the time of writing, another proof 69 coin was on offer on eBay. This one had been graded "ultra cameo" by the PCGS. That's a designation given to coins with an attractive contrast between glossy fields – the flat parts of the coin – and frosting on the high areas.
The asking price for that coin was a considerably more modest $825.
Here is another gold coin, but this one is considerably older. It was minted in 1888, when Queen Victoria was on the throne. Her image appears on one side.
On the other side is a crisp inscription with the date and the denomination of 2 dollars. The coin was for use in Newfoundland, then a British colony. It was not to become a province of Canada until 1949.
This coin was last offered for sale in 2011. It had been graded mint state 64 by the PCGS, a designation that indicated it had never been circulated. The mark of 64 points out of 70 left it one point short of "gem quality" status.
It sold for $4,025 dollars. And if you're interested in acquiring it today, the winning bidder is prepared to entertain offers over $6,000.
This lovely coin was another minted for Newfoundland in the reign of Queen Victoria. And this one is dated three years earlier, in 1885.
The coins of this year were generally relatively poorly struck. That makes this one, with crisp, clear details, a rare find.
It was graded mint state 64 by the PCGS. But the auctioneers' catalogue noted that it was more like a "specimen" coin than a mint state one. Specimens are coins that don't quite meet the quality of a proof, but are better struck than the average coin produced for circulation.
It came up for sale in 2019, as part of the Canadian coin collection of renowned collector George Hans Hook. The sale price, including buyer's premium, was $3,120.
This coin from 1870 is another example of a 2 dollar piece minted in London for Newfoundland. It has the portrait of a young Queen Victoria on one side. On the other is the face value of 2 dollars and the year.
There are two different varieties of 1870 2 dollar coins. This one, known as the "two dot" variety, has no period after the word "Newfoundland". It's actually the more common of the two types, but finding a good quality example is difficult.
This one had been graded by the PCGS as mint state 63. That ranked it the second highest quality coin of its type in existence.
It came to auction in 2003, as part of the collection of Sid and Alicia Belzberg. When the hammer fell, it had achieved a price of $8,625, a new auction record.
If you want to know the difference between a mint state and a specimen coin, take a look at this beautiful example. It's a specimen graded SP64 by the PCGS. And it shows the beautifully crisp and detailed strike and clear fields that set this apart from mint state coins.
Look closely, and you'll also see a lovely matte finish on Victoria's portrait. This is known as "frosting", and it greatly adds to what collectors term the "eye appeal" of a coin. The metal also has an attractive orange-gold tone. And there are only the smallest and slightest flaws to be seen.
The coin was minted in London in 1865, destined for Newfoundland. It was the first year a 2 dollar coin was minted for the then British colony, and examples are few and far between. Specimen coins are even rarer – there are perhaps no more than ten in existence.
It was the second finest coin ever to have been graded by the PCGS, short of the top spot by only 1 point. It came to auction in January 2022, and sold for a magnificent $22,800.
This is another example of a specimen coin, and it's a real beauty. It has lovely greenish-gold toning, with beautifully reflective fields. There are no major flaws, and it was graded SP65 by the PCGS, making it what's known as a "gem quality" coin.
It's struck with "medal alignment". That means that when the design on the front is straight, and the medal is flipped to the left or right, the design on the reverse is straight too.
This coin also has a reeded edge. In other words, there are grooves running around the edge of the coin at right angles to its faces.
Fewer than ten of these specimen coins were ever struck. And this example is the finest quality of them all. That makes it a highly desirable piece for serious coin collectors.
The last time it appeared at auction was way back in 2003. Then, it fetched the sum of $27,025, including the buyer's premium.
This interesting gold 2 dollar coin was another one that was crafted in England ready to be shipped overseas. But rather than London, this one was minted at the Heaton Mint in Birmingham. It's that which gives the coin its designation of 1882-H.
It's another specimen coin, but in the years since it was made it's suffered some wear. There are some signs of rubbing on the high points of the design. Its grading from the PCGS reflects that, at 58 out of a possible 70.
Like other Newfoundland gold 2 dollar coins of this period, this one has the portrait of Queen Victoria on the obverse. On the reverse is the date and the value.
This particular mintage is rare in specimen form. When it came to auction in 2014, it sold for $4,700, a record for a coin of this year and type.
This lovely coin dates from 1880. It's yet another example minted for Newfoundland during its time as a British colony.
2 dollar coins from this particular year are hard to find in mint condition. So this one, graded mint state 62 by the PCGS, is already an interesting find. Only four coins of higher quality are known to exist. Three of those are graded MS63, and there's a sole example at MS64.
But this one is also an exceptionally beautiful coin. The surfaces are a lovely warm shade of amber-gold, and the quality of the strike is crisp and clear.
So when it came to auction in 2014, it attracted a lot of interest from bidders. It eventually sold for $7,637 including the buyer's premium, setting a new record for a coin of its year and type.
This example dates from 1881, another year where mint state examples of 2 dollar coins are in short supply. Graded mint state 64 by the PCGS, it's just one mark short of gem quality.
It's another handsome coin, with a combination of mint green and apricot toning. And the strike is crisp, with every strand of Victoria's hair, and every leaf of her laurel wreath, clearly delineated.
Another example, graded one point lower at MS63, came to auction in 2014. It sold for $6,462, including the buyer's premium. It would be another five years before this one was offered for sale.
And that extra point in its grading made all the difference. This one achieved a price, including buyer's premium, of $11,400.
Here's a more modern coin, minted when Queen Elizabeth II was on the throne. It dates from 1994, and it's a regular issue, but what's known as a bullion coin – in other words, one made of precious metal. In this case, the metal is platinum.
That gives this coin an intrinsic value which ensured it would be carefully kept by collectors. That's good news for its condition – it's graded mint state 68 by the PCGS. But it also means that there are a lot of other similarly good examples for collectors to choose from.
There are no fewer than 18 other coins at this grade. And there are another 119 graded MS69, plus 18 at MS70.
So while this coin is worth a lot more than its face value, there are lots of better examples out there. When this particular specimen was sold at auction in 2012, it made a surprisingly modest $381.
1994 saw the production of bullion 2 dollar coins in both platinum and gold. This is the gold version, and it was graded mint state 66 by the NGC.
But just as with the platinum variety, the coin's obvious value meant it was treasured by collectors. So while only 3,450 were ever minted, the vast majority survive in good condition. There are another 76 coins graded at the same level. And well over 100 with higher gradings.
This one came up for sale in 2018, om the online auction platform eBay. The winning bidder secured it for $295.
Treasures from Canada
That brings us to the end of our look at some of the most valuable 2 dollar Canadian coins sold in recent years. We've seen both modern classics and coins that pre-dated the formation of the country as we know it today.
We hope you've enjoyed learning more about these little slices of history!