In the 1970s, the US celebrated 200 years of the country's historical creation as an independent republic. The memory of the American Revolution culminated on July 4, 1976, on the 200th anniversary of the moment when the Founding Fathers signed the Declaration of Independence.
The US Mint honored that moment with the US Bicentennial coinage quarter dated 1776 – 1976, made in 40% silver and clad versions. You can find numerous errors among these coins, making them the most valuable bicentennial quarters. Experts estimate that the rarest are the Doubled Die quarters, while the most common are those with a grease error.
Washington Bicentennial Quarters
The 200th anniversary of the Declaration of Independence was a big deal in the US. Therefore, the US Mint struck unique coins to honor this fascinating day.
In 1776, the Founding Fathers signed the Declaration of Independence and established the foundations of the new state. Less the twenty years later, Congress designated the dollar national currency by approving the Coinage Act of 1792.
Washington bicentennial quarters

Mint
Date
Mintage
Denver
1776 – 1976 D
860,118,839
Philadelphia
1776 – 1976
809,784,016
San Francisco
1776 – 1976 S silver
11,000,000
San Francisco
1776 – 1976 S clad proof
7,059,099
San Francisco
1776 – 1976 S silver proof
3,998,621
The same year, the national mint was established in Philadelphia, and the first quarters appeared in 1796. Two centuries later, the US Mint approved five versions of bicentennial quarters:
1776 – 1976 clad bicentennial quarter
1776 – 1976 D clad bicentennial quarter
1776 – 1976 S silver bicentennial quarter
1776 – 1976 S clad proof bicentennial quarter
1776 – 1976 S silver proof bicentennial quarter
Since these quarters are more a symbol than only coins, they can be pricey, particularly highly graded, rare, and error specimens.
Washington bicentennial quarter appearance
Three mints struck bicentennial quarters in 1975 and 1976, but there is no one with a standard date on the obverse. Instead of the regular Washington coins, the US Mint released those with the 1776 – 1976 date.
Besides this atypical date, these coins came with a President George Washington bust and the standard inscription IN GOD WE TRUST on the obverse. You can also see the mint mark on the right side.
The reverse features a Colonial drummer instead an eagle, thirteen stars around a victory torch, and the motto E PLURIBUS UNUM on reverse. The UNITED STATES OF AMERICA and QUARTER DOLLAR are spread along the coin rim.
The US Mint used John Flanagan's obverse design, while Jack L. Ahr created the obverse. Thanks to a unique reverse, you can often hear people call this coin a Drummer Boy quarter.
Most collectors use the Little Drummer Boy nickname for these unique coins because of this soldier drumming. It is a joke about the American Christmas song dedicated to the little drummer boy, although the young man shown on the coin reverse has no connection to this particular song.
Washington bicentennial quarter value
The circulated 1776 – 1976 clad quarter is typically worth its face value, but the one in the mint state can reach $6.65. It is the same with coins minted in Denver.
The San Francisco mint produced three Washington quarter types. You should pay $4.52 for the bicentennial Washington quarter proof made of copper and nickel in PR 65. Those containing 40% silver are a bit pricey.
Silver quarter (regular strike) in MS 65 is worth about $8.17 on the current coin market. On the other hand, you should pay $9.42 for an uncirculated proof specimen.
Unlike clad quarter, silver variation has some value even in the worst condition. The silver spot price is $18.10 per 1 troy ounce (31.1 g) on the current precious metals market.
Therefore, you can calculate that the silver melt value is currently $1.34 for this quarter. In other words, it will be worth at least that silver weight.
The 1975 Washington bicentennial quarter
As you know, the bicentennial Washington quarters have atypical obverse with a double, 1776 – 1976 date. The US Mint produced these coins dedicated to such an important event for two years, so you can find the same design and the date in pieces struck in both 1975 and 1976.
The curiosity is that there are no coins with the 1975 date! In other words, all bicentennial quarters from the two-year production are considered struck in 1976.
President Gerald Ford made this exception to the rule due to specific circumstances. He signed a bill to produce bicentennial coins from 1974 until mints reached the planned coin number.
Existing Washington bicentennial quarter types
Nowadays, you can recognize two types of these special 40% silver bicentennial quarter mint editions available:
Business strike silver coins produced in San Francisco without the mirror-like surface
Proof silver coins struck in San Francisco with a mirror-like surface
Besides, there are three ultimate coin quality levels, depending on the mint where they were produced. Despite high mintage, you can still find rare quarters in high grades, like:
1976 MS 67+ Washington bicentennial quarters
1976 D MS 68 Washington bicentennial quarters
1976 S MS 69 Washington bicentennial silver quarters
It is recorded that the San Francisco mint struck a few 1976 S silver proof quarters without the S mint mark. They were made for President Gerald Ford.
No one knows whether these coins still exist, but it is confirmed that one specimen was a gift to the President's secretary at the American Numismatic Association convention. Experts believe these specimens would cost a small fortune if they appeared on the market.
Washington bicentennial quarter errors
Bicentennial quarter errors are sometimes highly valuable. For instance, you can find doubling on the coin obverse or reverse or a common grease error on the drum. Some collectors also found struck-through quarters and overstruck pieces.
As expected, any deviation from the standard is considered unique and fetches a higher price. Therefore, dedicated collectors are highly interested in such coins and are prepared to pay more money for them than for regular coinage.
Related Post: 17 Most Valuable Modern Quarters Worth Money
Most Valuable Washington Bicentennial Quarters
All Washington bicentennial quarters have reeded edges and a diameter of 0.95669 inches (24.30 mm). However, they differ in weight. Silver coins weigh 0.18487 troy ounces (5.75 g), while clad pieces are heavy 0.2 ounces (5.67 g).
The most valuable Washington bicentennial quarters by PCGS

Lots found
Coin
Auction record
Type 3, clad, Washington bicentennial reverse
263
1976 D clad MS 68
$6,462,50
178
1976 clad MS 70
$1,999,99
Type 4, silver, Washington bicentennial reverse
2035
1976 S silver MS 69
$19,200
Type 3, clad, Washington bicentennial reverse
2324
1976 S clad PR 67
$6,038
2
1976 (1975) S clad PR
$342
Type 4, silver, Washington bicentennial reverse
3284
1976 S silver PR
$13,500
Besides regular coins produced in three mints in 1975 and 1976, you can also find a few more valuable pieces worth more money. Let's take a look.
The Denver mint produced 860,118,839 bicentennial quarters made of copper and nickel clad in a 91.67%: 8.33% ratio. Thanks to the D mint mark on the obverse, you can quickly recognize this coin type. The best examples you can find are in MS 68 condition.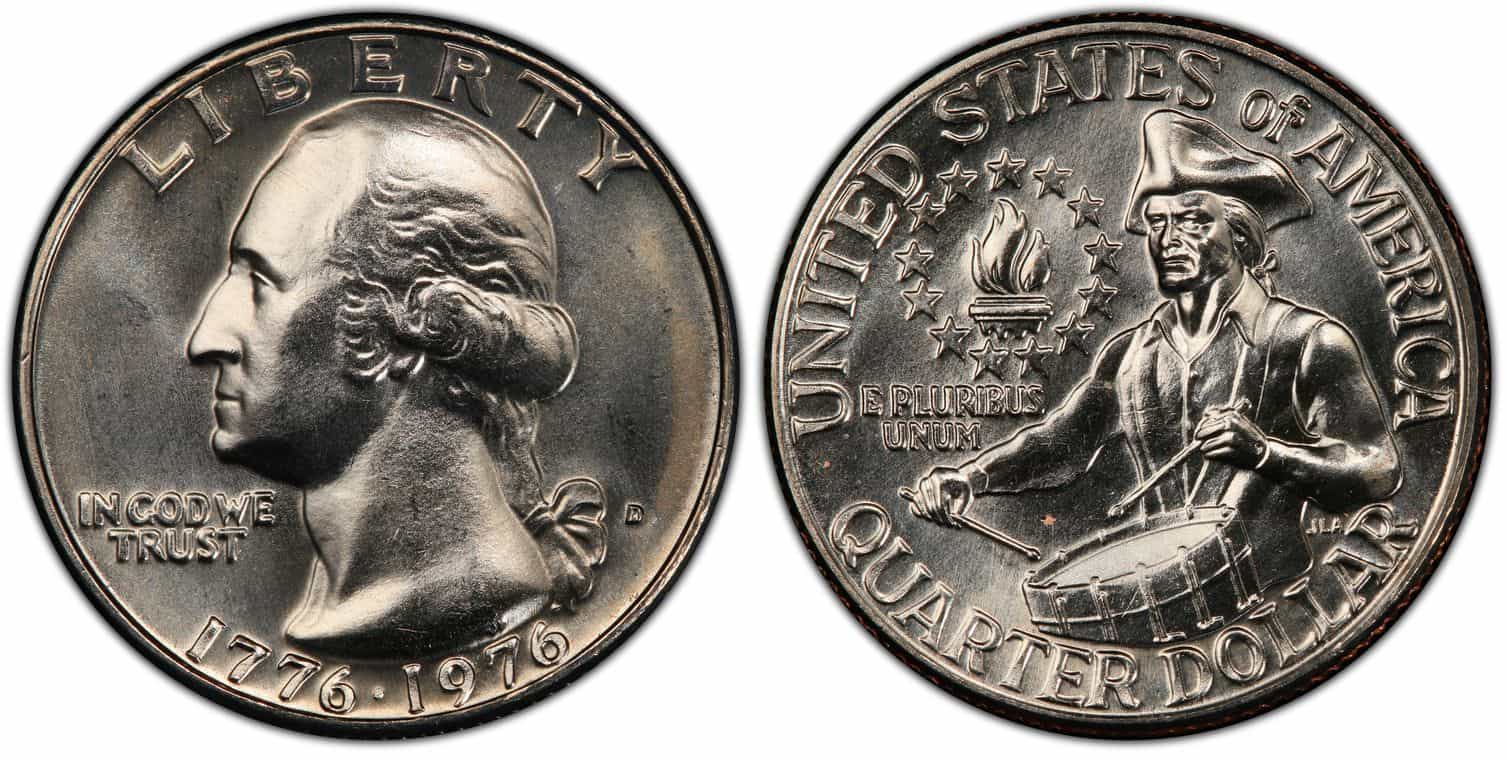 There are a few 1776 – 1976 D Washington bicentennial quarters in MS 68 state valuable from $3,220 to $6,462,50. The most expensive 1976 D clad MS 68 Washington bicentennial quarter was sold at Heritage Auctions in 2017.
The Philadelphia mint produced precisely 809,784,016 Washington bicentennial quarters with an engraved 1776 – 1976 date. All were made of 91.67% copper and added nickel.
Since expectations and demand were high for those coins, their quantity was more important than quality. Therefore, many errors were struck in those times but almost immediately pulled from circulation. Such specimens are still new and typically worth more money.
A standard 1776 – 1976 regular strike Washington bicentennial quarter in MS 65 grade is average worth $6 to $10.
Most bicentennial quarters in these conditions were pulled out of circulation soon after introducing to the public. Still, they are not rare, and you can buy one in MS 66 grade for $15 to $40. On the other hand, those in MS 67 rate are worth $35 to $127 on average.
Experts estimate that bicentennial quarters produced in the Philadelphia mint can be worth hundreds of dollars in grades over MS 67. One collector paid $1,199.99 for the 1976 clad MS 70 Washington bicentennial quarter on eBay in 2022.
The San Francisco mint produced bicentennial dollars, half dollars, and quarters in 1976. As for quarters, they struck three varieties that year, clad and silver proofs and regular silver quarters with the S mint mark on the obverse.
The San Francisco mint produced 11,000,000 silver bicentennial quarters. Such low mintage and 40% silver that it contains make these coins valuable.
For instance, you can get $23 to $144 for those in MS 68 grade, while only six existing in MS 69 are worth at least $5,060 each. However, one rare 1976 S silver MS 69 Washington bicentennial quarter reached an astonishing $19,200 at Heritage Auctions in 2019.
Almost 4 million proof silver quarters struck in San Francisco contain silver and copper in a 40%: 60% ratio. Most pieces with a Deep Cameo in PR 69 grade are worth $15 to $40, but collectors are often prepared to pay $139 to $250 for a top-notch proof coin in perfect condition.
Some notable pieces can reach even higher prices. For instance, an auction record of $2,760 went to the 1976 S silver PR Washington bicentennial quarter that was sold in 2007. However, the most expensive was a coin that reached an incredible price of $13,500 on eBay.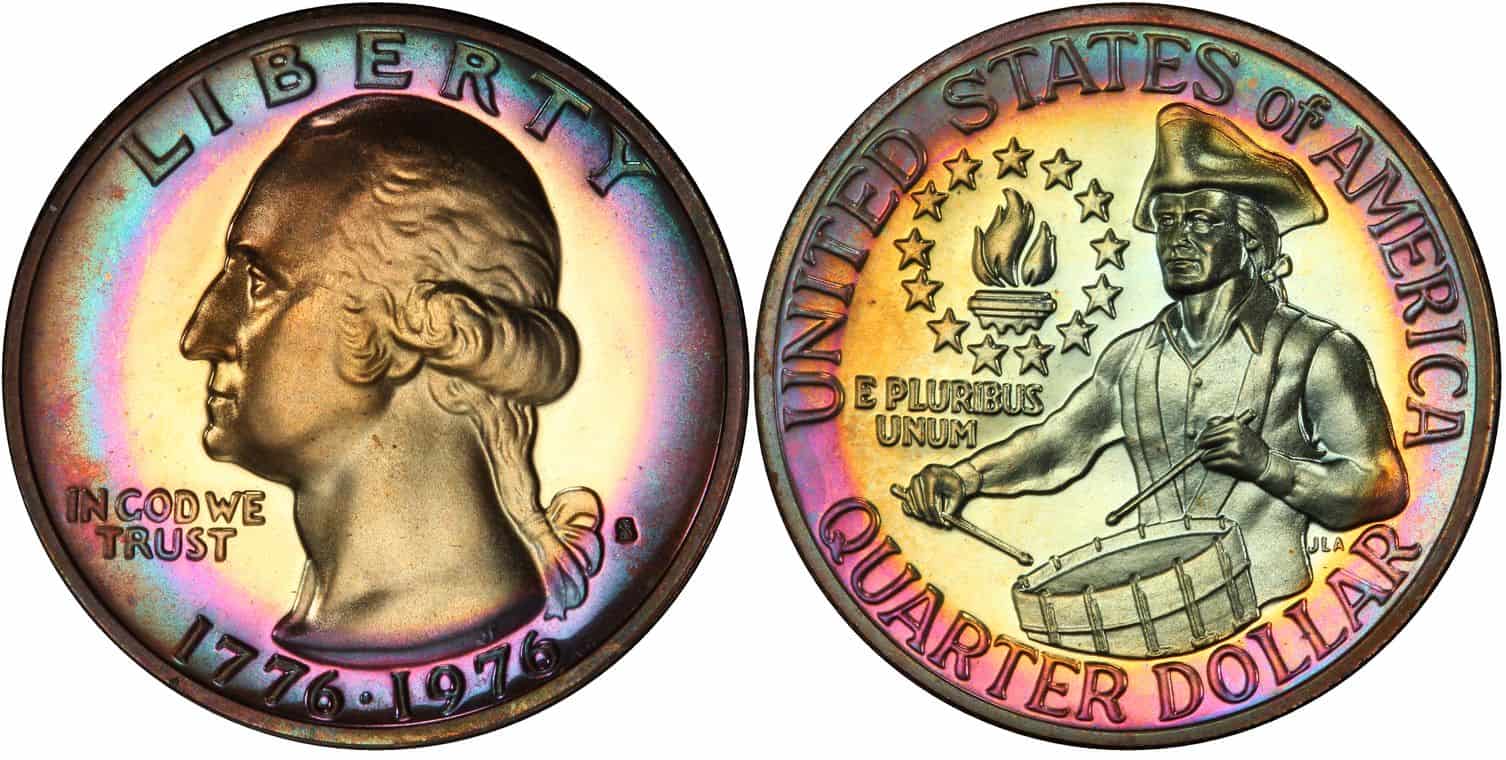 Over seven million dual date clad proofs produced in San Francisco contained 91.67% copper and 8.33% nickel. Pieces in PR 69 grade often reach up to $50 at auctions, but some Deep Cameo pieces in higher grades were sold for up to $93.
The most expensive 1976 S clad PR 67 Washington bicentennial quarter won the auction record in 2010. One collector paid $6,038 for this error specimen struck five times. On the other hand, one collector bought a similar coin in PR 69 DCAM grade on eBay for only $342 in 2021.
Valuable Washington Bicentennial Quarter Varieties
This commemorative coin stands out from other quarters by its nature. Besides being minted as a memory of such a crucial historical moment, errors add to some unique varieties' value.
Doubled Die Washington bicentennial quarter
Some coins have doubled reverse and obverse inscriptions due to striking by an improperly made die. Depending on the mint mark and preservation level, you can buy a few existing Doubled Die specimens for $810 to $3,246.
Struck through Washington bicentennial quarter
Some owners announced the existence of bicentennial quarter errors struck through the cloth. Such coins have a weaving pattern on the obverse, making them one of a kind.
Therefore, these pieces can reach high prices at auctions. One collector recently paid $881.25 for one in the MS 66 state at an auction.
Overstruck Washington bicentennial quarter
These coins appeared when a die overstruck an already finished piece, or a coin die pressed a wrong planchet. For instance, you can find bicentennial quarters struck on planchets created for other coin types.
Such unique pieces are fully personalized, and collectors find them valuable. Their price can go up to $12,000 at auctions.
Summary
The US has a remarkable history in coinage, including beautiful bicentennial quarters celebrating the Declaration of Independence signing. While most of these coins are of low value, some errors can be worth a lot.
The only way to determine their price is to check the metal type these quarters contain, the mint mark, condition, and possible errors.
Related Post: 16 Most Valuable Quarter Errors In Circulation