Pennies minted in 1986 are contemporary coins, but they are still collectible. Collectors like them, thanks to the historical significance and sentiment Americans have toward everything connected with the President who abolished slavery.
The first Memorial cents appeared in 1959 when replacing Wheat pennies. The goal was to celebrate the 150th Lincoln's birthday properly. Even though you may find these pieces cheap, the 1986 penny value is almost always higher than their face value.
1986 Memorial (Lincoln) penny value Chart

Condition
1986 P penny
1986 D penny
1986 S penny
MS 65
$0.33
$0.33
PR 63
$5.70
History of the 1986 Memorial (Lincoln) Penny
The first Lincoln pennies appeared in 1909 to commemorate the 100th Lincoln birthday. Fifty years later, the US Mint decided to change the existing reverse. The reason for replacing Wheat pennies with the Memorial building was the 150th of Lincoln's birthday.
The model for the new reverse look was the Lincoln Memorial National Memorial, built in Washington, DC, from 1914 to 1922. It honored the 16th President of the United States, who symbolized the fight for each man's freedom and dignity.
This design was present on cents by 2008 when four reverse designs replaced it in honor of this great man's 200th birthday. Since Lincoln is one of the most beloved American leaders, most collectors appreciate pennies struck from 1959 to 2008.
The Lincoln cent is historically significant as the first American coinage with a genuine man on the obverse. President Theodore Roosevelt decided to change the out-of-date attitude that putting a real person on coins was too monarchical and a bit unseemly.
He wanted to make American coins more appealing and inspiring, and striking coins with the beloved Lincoln was an excellent decision. That way, this President forever changed coinage in the country, while the resistance to change was negligible thanks to Lincoln's popularity.
The bronze Lincoln plaque was a base for the obverse design, and it has remained unchanged until these days.
1986 Memorial (Lincoln) penny

Location
Year
Minted
Philadelphia
1986 No Mint mark penny
4,491,395,493
Denver
1986 D penny
4,442,866,698
San Francisco
1986 S penny (proof)
3,010,497
Total
/
8,937,272,688
These coins don't contain particularly valuable and significant rarities, regardless of the minting year and mint mark struck on the obverse. As a result, complete sets with proofs and pieces from the regular strike are affordable and available for everyone, including collectors with a limited budget.
Like many other modern coins from the series, the 1986 Lincoln pennies have sentimental and historical value. Unfortunately, their prices are pretty modest, including rare red pieces and errors. Only a few specimens of ultimate quality are worth a significant amount of money.
Features of the 1986 Memorial (Lincoln) Penny
The Wheat Lincoln penny is a beautiful small cent with wheat stalks on the reverse issued to commemorate Lincoln's birth centenary.
Fifty years after that significant date, the US Mint released coins with the same obverse and the new reverse design containing the Lincoln Memorial. It was a way to celebrate 150 years since the birth of the beloved American President and half a century since the issue of this coin.
The obverse of the 1986 Memorial (Lincoln) penny
The 1986 Memorial Lincoln cent has this President's image on the obverse. Relatively simple Victor D. Brenner's design also includes the saying IN GOD WE TRUST on the top rim and the DATE, 1986, on the right side.
The word LIBERTY is placed behind Lincoln's back, on the left. You can also see the corresponding mint mark under the date and the D letter for Denver or the S letter for San Francisco. The lack of the letter indicates that the particular coin is from Philadelphia.
The reverse of the 1986 Memorial (Lincoln) penny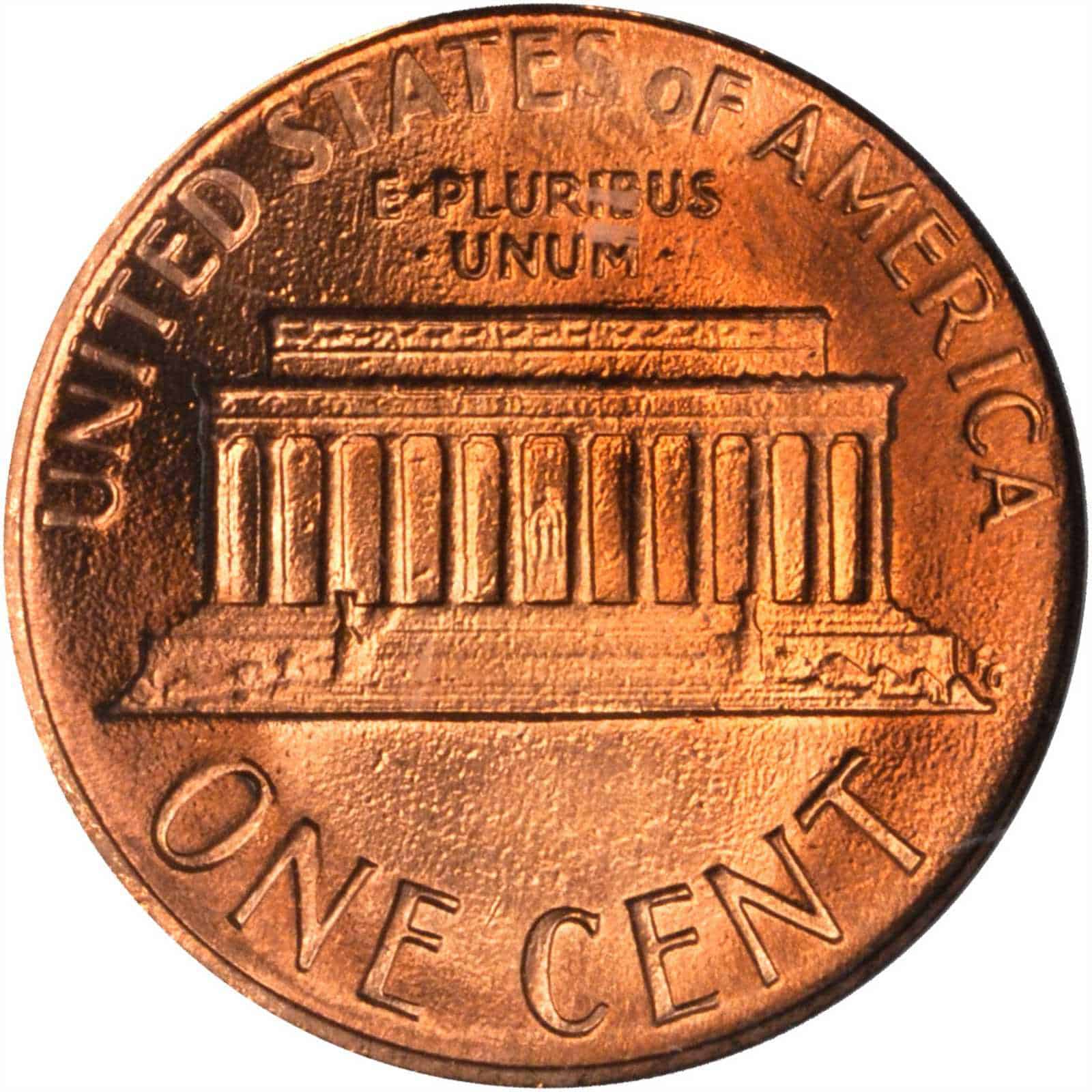 The first Lincoln pennies had two wheat stalks on the reverse, but it was changed in 1959. That year, Frank Gasparro created the new coin reverse design with the Lincoln Memorial in the center. His initials were inconspicuously added to the right of the stairs.
Interestingly, you can see the Lincoln statue if you look carefully between the pillars. That design detail makes this coin unique, with the same President featured on both penny sides.
Above the Memorial is the UNITED STATES OF AMERICA, while the motto E PLURIBUS UNUM is struck between them. The appearance of this coin side is completed by the denomination ONE CENT written with the most sizable letters.
1986 Memorial (Lincoln) penny

Face value
One cent ($0.01)
Coin diameter
19.05 mm (0.75000 inches)
Shape
Round
Coin weight
2.5 g (0.08818 ounces)
Compound
Zink and copper in a 97.5%: 2.5% ratio
Coin thickness
1.52 mm (0.05984 inches)
Edge
Plain
Other features of the 1986 Memorial (Lincoln) penny
The 1986 Memorial penny is a one-cent coin with a plain edge and diameter of 19.05 mm (0.75000 inches). This round piece made of zinc and copper weighs 2.5 g (0.08818 ounces) and is thick 1.52 mm (0.05984 inches).
1986 Memorial (Lincoln) Penny Value Guides
You can see that the mintage of 1986 Lincoln pennies is high since three mints produced an impressive 8,937,272,688 pieces this year. Unlike mints in Philadelphia and Denver, places for minting billions of coins from the regular strikes, the one in San Francisco produced only proofs.
1986 No Mint mark Memorial (Lincoln) penny Value
Interestingly, pennies from regular strikes in lower grades have the same price, regardless of the mint where they were produced. However, those without the mint mark and of the highest quality are always more pricey than those with the letter D under the date.
1986 Memorial (Lincoln) penny value

Condition
Red 1986 No Mint mark penny
Red 1939 D penny
MS 60
$0.10
$0.10
MS 61
$0.12
$0.12
MS 62
$0.15
$0.15
MS 63
$0.20
$0.20
MS 64
$0.30
$0.30
MS 65
$0.40
$0.40
MS 66
$5
$3
MS 67
$20
$16
MS 68
$125
$55
MS 69
$600
/
The mint in Philadelphia struck 4,491,395,493 coins in 1986, and their prices are $0.10 to $20 on average. Only pennies in grades above MS 68 cost $125 to $600.
In 2019, one collector bought the 1986 MS 68+ RD Memorial (Lincoln) penny on eBay for $2,400. It is still the rarest and most expensive coin made in Philadelphia this particular year.
1986 D Memorial (Lincoln) penny Value
The Denver mint produced only a slightly lower number of Memorial pennies in 1986 than Philadelphia. Precisely 4,442,866,698 pieces came with the D letter struck on the obverse, making them abundant on the market.
Most of the well-preserved pieces are worth $0.10 to $16, but those with an MS 68 grade cost $55. However, one of the pieces from this mintage is the most pricey coin in the series. The 1986 D MS 69 RD Memorial penny was sold on eBay in December 2021 for an impressive $7,840.
1986 S Memorial (Lincoln) penny (proof) Value
As I have already mentioned, the San Francisco mint produced only proof coins in 1986. This mint struck precisely 3,010,497 pennies with the S letter under the date.
Their price is typically modest, and coins spent some time in circulation are practically worthless, or their price is the same as their face value. On the other hand, you can find pieces in the mint state for $0.18 to $4.
1986 Memorial (Lincoln) proof penny value

Condition
Red 1939 S DCAM penny
PR 60
$0.18
PR 61
$0.18
PR 62
$0.18
PR 63
$0.18
PR 64
$0.25
PR 65
$1
PR 66
$1.50
PR 67
$2
PR 68
$3
PR 69
$4
PR 70
$200
Only pennies in a PR 70 grade are expensive, and you need to set aside at least $200 to get one. The most expensive piece minted this year is one perfectly preserved specimen with perfect luster, deep cameo contrast, and sharp design. One collector got it for $3,450 at an auction in January 2003.
1986 Memorial (Lincoln) Penny Errors
The US Mint is among the most advanced mints worldwide but still makes mistakes. The result is error coins with an appearance that deviates from the standard.
Interestingly, collectors highly appreciate these pieces and are often prepared to set aside serious money to get one of them. It is the same with 1986 Lincoln pennies.
You can find coins struck this year with three typical errors, but finding those with a weird look doesn't mean you have a premium coin. Most are only with post-mint damage, but real things are almost always profitable.
1986 Penny BIE error
This particular error was a result of the worn-out and cracked die. Once that happened, the break on its surface resulted in a famous BIE variety. Interestingly, this imperfection is exclusive to Memorial cents and appears in the word LIBERTY as a tiny, vertical die crack.
The I-looking crack location is always between B and E letters, forming a BIE look. In this case, the coin's price directly depends on the crack size and ranges from $5 to $15.
1986 Penny Doubled Die
Once you get a Doubled Die 1986 penny, you can notice a slight doubling on the obverse or reverse. Their location can vary, but such an error is the most common on:
Lincoln's bowtie
Inscriptions
Dates
Between the Memorial building's pillars
The 1986 Lincoln penny in average condition with this error type is typically worth $25 to $50. However, perfectly-preserved pieces with spectacular doublings can be precious.
1986 Penny Off-center
Sometimes the dies are slightly misaligned, or the machine fails to perfectly center coins on the press, resulting in off-center Lincoln pennies. This error can be barely visible when the off-center is only 1% to 2%, medium with the error of up to 40%, or drastic to 99%.
Most collectors prefer coins with 40% to 50% off-center with saved date, and their price is approximately $50 to $100. Pieces with a low off-center percentage cost about $5 to $15.
FAQ about the 1986 Memorial (Lincoln) Penny
What makes a 1986 Memorial (Lincoln) penny rare?
Lincoln Memorial pennies produced in 1986 are neither rare nor particularly valuable. The rarest pieces are those with one of three typical errors for this coin type. Collectors also appreciate relatively scarce coins with red toning that can reach a few hundred or even thousand dollars at auctions.
Which 1986 Memorial (Lincoln) penny is worth a lot of money?
The 1986 D MS 69 RD Memorial (Lincoln) penny came to $7,840 in December 2021 on eBay
The 1986 S PR 70 DCAM Memorial (Lincoln) penny came to $3,450 in January 2003 at Heritage Auctions
The 1986 MS 68+ RD Memorial (Lincoln) penny came to $2,400 in March 2019 on eBay
The 1986 MS 63 BN Memorial (Lincoln) penny came to $1,553 in July 2003 at Bowers & Merena
The 1986 MS 61 RB Memorial (Lincoln) penny came to $306 in October 2015 at Heritage Auctions
The 1986 D MS 63 BN Memorial (Lincoln) penny came to $285 in November 2004 at Heritage Auctions
The 1986 D MS 64 RB Memorial (Lincoln) penny came to $15 in May 2021 on eBay
How much is the 1986 No Mint mark Memorial (Lincoln) penny worth?
Most Lincoln pennies minted in Philadelphia in 1986 are worth $0.10 to $20, but those with an MS 68 rating typically cost $125 to $600. Only rare, perfectly preserved coins can cost more at auctions, like one rarely beautiful penny sold for $2,400 in 2019.
What is the most pricey Memorial (Lincoln) penny?
The most pricey Memorial (Lincoln) penny from the regular strike is the coin minted in 1999. One collector bought this modern Lincoln cent in an MS 66 grade for $138,000 in 2006. The most expensive penny from Denver is the coin produced in 1959. It was sold for $48,300 in 2003.
The 1963 Memorial penny is the most costly proof coin ever sold. Its price was $40,250 at Heritage Auctions in 2004. Finally, you can see that the most pricey error coin from the series is the 1969 S DDO Lincoln penny. It won the auction record in 2008 when one collector set aside $126,500 to get it.