The US Mint issued the Jefferson nickel in 1938 to replace the Indian Head nickel that completed the mandatory 25-year run. It was time for a new design, and new coins were introduced in circulation after changes in their appearance.
This beautiful five-cent coin has a numismatic and historical value for collectors, primarily thanks to a highly collectible Full Steps variety. Let's see how much is 1974 Jefferson nickel value and what factors affect it.
1974 Jefferson nickel value

Condition
1974 No Mint mark Nickel
1974 D Nickel
1974 S Nickel
Mint state 60
$0.3
$0.3
/
Mint state 65
$3.3
$3.3
/
Proof 63
/
/
$2.3
*By USA Coin Book
History of the 1974 Jefferson Nickel
The Jefferson nickel series began in 1938, 25 years after the first appearance of Buffalo (Indian Head) nickel. Although Buffalo nickels were attractive, full of detail, and a homage to Native American history, they proved to be of poor quality. They tended to scratch and break quickly after spending a short time in circulation.
That is why the US Mint announced a public competition for a new nickel design featuring President Jefferson. The contest started in 1938, and interest was high because of the $1,000 prize.
German immigrant, Felix Schlag, won the competition among 400 creative and beautiful designs. The humble immigrant found an existing Gilbert Stuart's portrait of President Jefferson in an art book and used it as a model.
President Roosevelt liked his interpretation and vouched for Schlag as the competition's winner. The first female director of the US Mint, Nellie Tayloe Ross, agreed with that attitude and the design was chosen.
However, the President and the then Chef Engraver had some additional requests, and the original idea underwent several modifications before final coin minting.
1974 Jefferson nickel

Location
Year
Minted
Philadelphia
1974 No Mint mark nickel
601,752,000
Denver
1974 D nickel
277,373,000
San Francisco
1974 S nickel (proof only)
2,612,568
Total
/
881,737,568
Once approved, the nickel design stayed the same for decades, besides a change in composition in the period from 1942 to 1946. Initially, the Jefferson nickel had the same composition as its predecessor, a combination of copper and nickel.
The so-called wartime nickel contained 56% copper, with silver and manganese, because nickel was used for war purposes. The post-war coins returned to the usual composition of nickel and copper, and it has remained so to this day.
As for the design, it stayed the same until 2003. Schlag died in 1974, so he never saw the redesign of his precious coin.
Related Post: 19 Most Valuable Nickel Worth Money
Features of 1974 Jefferson Nickel
Three mints issued Jefferson nickels in 1974. The Philadelphia mint produced more than two-thirds of the total mintage, which reached 881,737,568 pieces. The San Francisco share was minimal, and this mint struck only proofs that year. Thanks to high production, these coins are still abundant.
The obverse of the 1974 Jefferson nickel
The US coins included two Presidents in 1938 when Felix Schlag won the competition and the Jefferson nickel was released in circulation for the first time. By that moment, Americans had the Lincoln Wheat penny and Washington quarter.
Initially, Schag's design included stylized lettering around the President's bust as well as the letters on the reverse. However, the final version got a more formal font on all engravings.
You can see two inscriptions on the obverse, mandatory IN GOD WE TRUST on the left and LIBERTY along the right side. You can see the issue DATE below the favorite American word.
If you inspect nickels from Denver and San Francisco, you will notice they have the mint mark. The tiny letter D or S is engraved on the obverse, below the digit 4 in the date.
From 1966, the obverse design included the designer's initials, FS. You can see them on the coin bottom, below Jefferson's portrait.
The reverse of the 1974 Jefferson nickel
In addition to the Jefferson image on the obverse, the US Mint had specific requirements about the new nickel's reverse design. It had to include Monticello, Jefferson's historic home built near Charlottesville.
Even though Schlag included Monticello in his design, the building was placed at the wrong angle. It was represented in a three-quarter view with a small palm tree in front.
However, President Roosevelt demanded the front view of the residence, so Schalg had to redesign the coin once more. In the final version, he changed the house position and removed the tree. Finally, the US Mint accepted the corrected design.
Besides the famous house, there is its name MONTICELLO just below the image. The denomination FIVE CENT and inscription UNITED STATES OF AMERICA are stretched along the bottom rim, one below the other. On the coin top, you can read E PLURIBUS UNUM, a traditional American slogan.
1974 Jefferson nickel

Face value
$0.05
Shape
Round
Coin diameter
0.83465 inches (21.2 mm)
Coin weight
0.17637 ounces (5 g)
Coin thickness
0.07677 inches (1.9 mm)
Compound
3/4 copper with 1/4 nickel
Edge
Plain
Other features of the 1974 Jefferson nickel
The Jefferson nickel has five cent face value and contains copper with one-quarter nickel. Its composition is the same as the previous Indian Head nickel. It weighs only 0.17637 ounces (5 g), while its diameter is 0.83465 inches (21.2 mm). This round coin has a plain edge, and its thickness is precisely 0.07677 inches (1.9 mm).
Related Post: Top 11 Most Valuable 2000-P Sacagawea Dollar Coins
1974 Jefferson Nickel Value Guides
There are three types of the 1974 Jefferson nickel, and they all share the same original Schlag design. They only differ in the mint mark, collectability, and value.
1974 No Mint mark Jefferson nickel
The Philadelphia mint struck the highest percentage of the 1974 Jefferson nickel mintage, a total of 601,752,000 pieces. All of these coins went into circulation because the San Francisco mint took over proof coin production that year.
You can effortlessly distinguish the Philadelphia nickel from the other two types of coins since it is the only one without the mint mark. Pay particular attention to wartime nickels since these coins were unique and appeared with the P mint mark. You can see a large letter P engraved above Monticello.
The 1974 No Mint mark Jefferson nickels' bulk production resulted in their low value. Nowadays, you can find these coins for under a dollar. Unfortunately, that even goes for lower-grade nickels in the mint state.
For instance, the 1974 MS 60 Jefferson nickel is worth about $0.3, while a similar coin in the MS 67 grade costs $75. The most expensive 1974 MS 66+ Jefferson nickel reached the price of $2,375 at eBay in 2020, making looking for top-notch pieces worthwhile and meaningful.
1974 D Jefferson nickel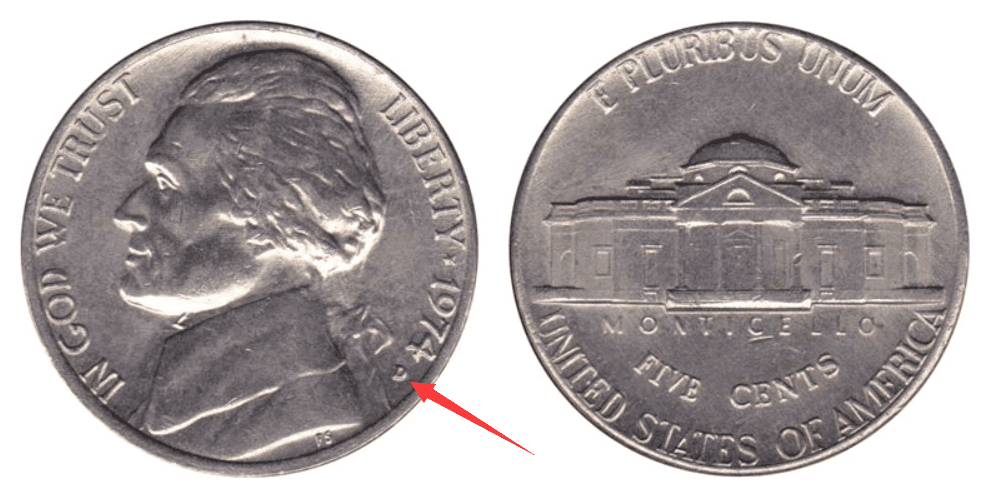 The Denver mint produced fewer 1974 Jefferson nickels than the Philadelphia mint, only 277,373,000 pieces. Unfortunately, significantly lower mintage didn't increase their value, and you can buy even the 1974 D MS 65 Jefferson nickel for a modest $5.
All Denver coins went into circulation, so many have been damaged, scratched, or broken over time. However, rare and the best-preserved pieces sometimes reach a price of over a thousand dollars on auctions.
Something like that happened in 2015 when one 1974 D MS 67+ Jefferson nickel was sold for $1,645, winning the auction record.
1974 S proof Jefferson nickel
If you find a 1974 Jefferson nickel with the S mint mark on the obverse, you will correctly conclude it comes from the San Francisco mint. All these nickels came as proof coins, which means they are more valuable and aesthetically pleasing than regular pieces.
1974 DCAM proof Jefferson nickel value

Condition
Price
PR 60
$0.4
PR 61
$0.5
PR 62
$0.6
PR 63
$0.6
PR 64
$0.6
PR 65
$1.5
PR 66
$2.7
PR 67
$5.4
PR 68
$8.1
PR 69
$13.5
*by Greysheet
Namely, proof coins were made with collectors in mind and were never put into circulation. They were highly polished and struck multiple times so that you could notice the finest details and lines in the design.
The San Francisco mint produced only 2,612,568 Jefferson nickels in 1974. They are relatively rare and worth more than their face value. For instance, the most expensive was the 1974 PR 70 Jefferson nickel sold for $3,818 in 2015.
1974 Jefferson Nickel Errors
The entire Jefferson nickel series abounds in errors and varieties. Such pieces typically have a much higher value than regular full-strike nickels. The 1974 Jefferson nickel is a fairly common date, but you can find a few exceptional coins worth your attention.
1974 Full Steps Jefferson nickel
The most famous Jefferson nickel variation is the Full Steps nickel. Namely, Schlag's design proved challenging in the minting process, and the high points on both the reverse and obverse are located almost in the same position.
Consequently, a limited number of coins received a decisive strike and a precisely done reverse design. The Full Steps grading designation means you can see all six steps on the Monticello building. However, such coins are scarce, so five steps are often enough to get the FS grade on certification.
1974 Jefferson nickel value

Condition
1974 No Mint mark nickel
1974 No Mint mark FS nickel
1974 D nickel
1974 D FS nickel
MS 60
$0.3
/
$0.3
/
MS 61
$0.3
/
$0.3
/
MS 62
$0.3
/
$0.3
/
MS 63
$1.5
/
$0.8
/
MS 64
$5.4
$18
$1.9
$5
MS 65
$12.1
$50
$5.4
$12
MS 66
$74
$660
$47.3
$35
MS 67
/
/
/
$1,690
*by Greysheet
With the minting modernization, the quality of the coins has increased, so Full Steps Jefferson nickels with dates after 1986 are much easier to find.
Unfortunately, Full Steps Jefferson nickels minted in 1974 are scarce, particularly those in the mint state. The record value for the 1974 FS Jefferson nickel was reached at Legend Rare Auctions in 2020. One collector bought this remarkable coin for $4,230.
1974 over 1973 Jefferson nickel
There is one error specific to the 1974 Jefferson nickel that is very appealing to many collectors. It is a 1974 over 1973 strike coin. Not only is it a double-strike piece, but somehow there was a flip-over.
As a result, the reverse side of the 1974 nickel clearly shows the details of the 1973 design. It included the digit three from the date. One of these unique Jefferson nickels reached $2,185 on Heritage Auctions in August 2010.
Related Post: 20 Most Valuable Buffalo Nickels Worth Money
FAQ about the 1974 Jefferson Nickel
What makes a 1974 Jefferson nickel rare?
Generally, the Jefferson nickels are not scarce coins, and you can find them for under a dollar. Typically, proof nickels can set a high value, particularly pieces in the mint state. If you stumble upon one with Full Steps variety, you can expect to get a high profit for it. The most quality specimens can be worth thousands of dollars.
Which 1974 Jefferson nickel is worth a lot of money?
1974 MS 67 FS Jefferson nickel reached an auction record in 2020 when it was sold for $4,230 at Legend Rare Auctions
1974 PCGS Genuine Jefferson nickel reached an auction record in 2021 when it was sold for $2,375 at eBay
1974 S PR 70 DCAM Jefferson nickel reached an auction record in 2015 when it was sold for $3,819 at Stack's Bowers
1974 D MS 67+ Jefferson nickel reached an auction record in 2015 when it was sold for $1,645 at Heritage Auctions
1974 D MS 67 FS Jefferson nickel reached an auction record in 2010 when it was sold for $1,495 at Heritage Auctions
How much is 1974 No Mint Mark Jefferson nickel worth?
The 1974 Jefferson nickels produced in Philadelphia are typically inexpensive unless you have a specimen of the highest grade. You can find most of these coins for around 30 cents, while the highest-rating pieces are worth approximately $74. Only top-quality Full Steps varieties can reach high prices at auctions.
Are there any rare 1974 Jefferson nickels?
Although the number of 1974 Jefferson nickels with the Full Steps variation is unknown, these coins are rare and valuable. Some of them can reach fantastic prices at auctions.